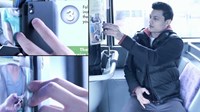 Cubic Transportation Systems (CTS), a business unit of Cubic Corporation (NYSE: CUB), will demonstrate its specialized transportation systems and services embodying the company's NextCity vision and strategy at the ITS World Congress in Bordeaux, France, from October 5 - 9. The ITS World Congress and Exhibition is the world's largest event in intelligent transport systems (ITS) and services. With the theme, "Towards Intelligent Mobility – Better Use of Space," the Bordeaux Congress will focus not only on how achieving intelligent mobility will change our lives, but also on the benefits it can bring to intelligent transport systems applications.
At the event, Cubic will demonstrate NextCity's core capabilities including traffic management, predictive analytics, real-time passenger information and revenue management. Collectively, these solutions have the potential to deliver smarter travel–providing a holistic view of a city's entire transportation architecture in tandem to inform and influence those who wish to interact with it for the good of the city, the environment and their fellow citizens.
"As we listen to and partner with our customers to bring solutions they are asking for CTS is rapidly evolving from a world-leading revenue collection company to a specialized systems integrator and technological innovator in the transportation market serving public and private modes of travel," said Matt Cole, president of Cubic Transportation Systems. "By offering the most comprehensive demonstration of our solutions framing our NextCity vision and strategy at this year's Congress, attendees at the event will be able to experience how the convergence of cutting-edge and established technologies and services can deliver measurable benefits for cities and regions worldwide."
At the show Cubic will also address innovative public transport solutions with the following technologies and services:
Traffic Management, Tolling and Safety enforcement solutions: The next generation of integrated traffic management to enhance road-user safety and efficient operations through informed decision-making for both authorities and drivers.
Incident Management System (IMS): An Advanced Traffic Management System (ATMS) delivering a powerful integration framework to deliver national ITS – traffic control and surveillance including managed motorways and variable mandatory speed limits.
Predictive Analytics: Cubic's subsidiary and professional services firm, Urban Insights Associates, applies big data tools and deep analytics to public transportation agencies, road authorities and municipalities, helping clients improve operations, reduce costs and better service travelers.
Video Analytics: Real-time video analytics to help ensure safer movement and more effective use of limited transport infrastructure to deliver customer-specific business solutions.
NextWave: Mobile ticketing system that utilizes both bar code and Near Field Communication (NFC) technology to offer quick and efficient public transportation mobile services.
NextBus: A cloud-based solution that provides real-time passenger information systems to more than 135 transit agencies and organizations.
Attendees of the event can visit CTS at booth E41 at the Palais des Congrès, Bordeaux, France. Follow Cubic Transportation Systems at @CubicTS or #ITSWC15 to join the conversation.
About Cubic Corporation
Cubic Corporation designs, integrates and operates systems, products and services focused in the transportation, defense training and secure communications markets. As the parent company of two major business units, Cubic's mission is to increase situational awareness and understanding for customers worldwide. Cubic Transportation Systems is a leading integrator of payment and information technology and services to create intelligent travel solutions for transportation authorities and operators. Cubic Global Defense is a leading provider of realistic combat training systems, secure communications and networking and highly specialized support services for military and security forces of the U.S. and allied nations.