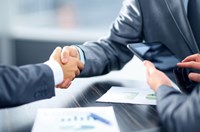 Cubic Transportation Systems (CTS), a business unit of Cubic Corporation (NYSE:CUB), today announced that Dirk Van de Meerssche, sales and marketing director of intelligent transport systems and tolling for Asia Pacific at CTS, has been appointed to the board of directors for Intelligent Transport Systems (ITS) Australia.
Representing more than 100 member organizations across government, industry and academia, ITS Australia plays a critical role in promoting, debating and advancing opportunities for the adoption of intelligent transport solutions nationwide across all public and private modes.
"Cubic is an active part of ITS in Australia, making positive contributions across a broad range of areas from public transportation to traffic management as well as cutting-edge research and pilot programs, all helping to make our transportation networks smarter," said ITS Australia CEO Susan Harris. "Dirk is a key leader of these activities and I look forward to his contribution as a director of the ITS board and as we work to advance the opportunities for transportation technology in the region."
"It is an absolute privilege to sit on the ITS Australia board of directors alongside such a prestigious group of thought leaders in the industry," said Van de Meerssche. "I welcome the opportunity to play a part in making travel smarter, safer and more efficient and look forward to working with the board to achieve this vision."
About Cubic Corporation
Cubic Corporation designs, integrates and operates systems, products and services focused in the transportation, defense training and secure communications markets. Cubic Transportation Systems is a leading integrator of payment and information technology and services to create intelligent travel solutions for transportation authorities and operators. Cubic Global Defense is a leading provider of live, virtual, constructive and game-based training solutions, special operations and intelligence for the U.S. and allied forces. Cubic Mission Solutions provides networked Command, Control, Communications, Computers, Intelligence, Surveillance and Reconnaissance (C4ISR) capabilities for defense, intelligence, security and commercial missions.