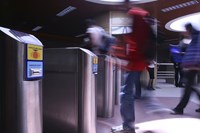 Cubic Transportation Systems (CTS), a business unit of Cubic Corporation (NYSE:CUB), today announced the award of a $4.8 million contract modification from the Maryland Transit Administration (MTA) to conduct a major upgrade to its Automatic Fare Collection (AFC) system and setting the foundation for new features and functionality. The upgraded system will provide the MTA with the opportunity to accept new payment methods, such as mobile payments, as well as add new features, including a new customer web portal and an integration path with third-party transport services in the future.
To date, Cubic provided software maintenance and technical support for the AFC system. Under the contract modification, CTS will perform a software update, upgrading AFC from Cubic's NextFareTM 4.0 revenue management system, to NextFare 7. This form of an approach is a cost-effective solution for giving the MTA the freedom to innovate, without having to overhaul the entire AFC system. The cloud-based platform will replace all the key functionality currently provided by the existing scheme and offer a number of advanced features, such as payment card industry (PCI) compliant payment application for processing credit and debit transactions; support of enhanced fare policy; and enhanced reporting and analytics, as well as allow the MTA to monitor the conditions of fare collection equipment, so that repairs can be made quickly and efficiently, without much impact on customer service.
A future expansion benefit of the system is that the platform can be enhanced to enable the MTA to integrate third-party systems, such as bike-sharing and ride-sharing services, into the transport experience for the public, in alignment with its BaltimoreLink program.
"The new system will allow the MTA to manage and control its own destiny, giving it freedom to implement a variety of innovative and integrated solutions now and in the future," added Ian Newberg, vice president of business development, Cubic Transportation Systems. "It is not only a chance to significantly enhance current service offering, but also an exciting opportunity to provide a richer transportation experience in the coming years."
About Cubic Corporation
Cubic Corporation designs, integrates and operates systems, products and services focused in the transportation, defense training and secure communications markets. Cubic Transportation Systems is a leading integrator of payment and information technology and services to create intelligent travel solutions for transportation authorities and operators. Cubic Global Defense is a leading provider of live, virtual, constructive and game-based training solutions, special operations and intelligence for the U.S. and allied forces. Cubic Mission Solutions provides networked Command, Control, Communications, Computers, Intelligence, Surveillance and Reconnaissance (C4ISR) capabilities for defense, intelligence, security and commercial missions.