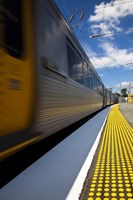 Cubic Corporation (NYSE:CUB) today announced that a consortium of its subsidiaries, Cubic Transportation Systems (Australia) Pty Limited and Cubic Technologies Singapore (C-Tech) Pte. Ltd., signed a contract with the Land Transport Authority (LTA) in Singapore to design and deliver automated fare collection equipment for the authority's future Thomson-East Coast Line. The contract for $35.5 million ($48.5 million Singapore) includes the design, development, test and integration with LTA's current fare collection system.
Under the agreement, Cubic will deliver a full suite of devices for deployment in stations and operations depots. The contract marks Cubic's renewal of customer relations with LTA that began with the region's original fare collection system in the 1980s, followed by the 1999 win to supply Cubic's General Ticketing Machines. The system was the first of its kind to issue and recycle contactless smart cards for single trips as well as topping up reloadable smart cards using notes, coins and bankcards.
"We are delighted to have been selected for this contract, which is part of LTA's goal to increase connectivity for commuters not directly served by the rail network currently," said Tom Walker, Asia-Pacific managing director, Cubic Transportation Systems. "Cubic's experience with payment systems for many of the world's largest transport systems was a key factor in the process, and we are excited by the opportunity to re-establish our footprint with the LTA, an important and respected customer of many years."
The LTA's Thomson-East Coast Line is under construction with the first stage to be launched in 2019 and the last stage to be completed in 2024.
About Cubic Corporation
Cubic Corporation designs, integrates and operates systems, products and services focused in the transportation, defense training and secure communications markets. Cubic Transportation Systems is a leading integrator of payment and information technology and services to create intelligent travel solutions for transportation authorities and operators. Cubic Global Defense is a leading provider of live, virtual, constructive and game-based training solutions, special operations and intelligence for the U.S. and allied forces. Cubic Mission Solutions provides networked Command, Control, Communications, Computers, Intelligence, Surveillance and Reconnaissance (C4ISR) capabilities for defense, intelligence, security and commercial missions.