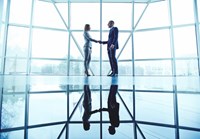 Cubic Transportation Systems (CTS), a business unit of Cubic Corporation (NYSE:CUB), today announced the opening of its new Global Operations Centre (GOC) in the United Kingdom, which will expand and strengthen the company's leading intelligent travel services offerings around the world.
The GOC is located in Stockton-on-Tees in northeastern U.K., an existing base of Cubic resources and infrastructure and the home of its intelligent transportation management system (ITMS) operations. The town is also near many of the U.K.'s leading, most prestigious universities, including Newcastle and Durham. This gives Cubic proximity to a vast base of potential, qualified recruits, further establishing the new operations center that will build on the company's already impressive services footprint and help fuel future growth.
"Our services business today supports a comprehensive range of operations and maintenance needs for transportation authorities around the world, ranging from public transport to traffic management for roads and highways. As our first global operations hub, the GOC will augment our services operations already onsite in these multiple locations," said Min Wei, senior vice president, operations, Cubic Transportation Systems. "We will continue to provide the same standards of local support we always have and that our clients rightly expect."
The GOC will support Cubic customers around the world on a rolling 24/7 basis, delivering Level one and Level two support. Level one will comprise central service desk operations, while Level two will involve more skilled and specialized interventions to remotely resolve issues or improve performance.
The new center utilizes Cubic's latest innovations for providing the highest service levels in transportation, including cloud-based enterprise software, best-in-class service management tools and advanced analytics.
"The convergence of passenger transit and traffic management on the roads of the regions and cities we serve is a trend we have long recognized," said Wei. "Our NextCity strategy revolves around recognizing and harnessing those trends. Through insightful analysis of the customer data being captured every second of every day across these thriving cities, we can help improve how agencies operate and serve their citizens."
An opening celebration officiated by James Wharton, Member of Parliament for Stockton South and Under Secretary of State for International Development, and attended by Cubic executives and local government representatives will be held on Friday, September 23 at the new GOC location.
About Cubic
Cubic Corporation designs, integrates and operates systems, products and services focused in the transportation, defense training and secure communications markets. Cubic Transportation Systems is a leading integrator of payment and information technology and services to create intelligent travel solutions for transportation authorities and operators. Cubic Global Defense is a leading provider of live, virtual, constructive and game-based training solutions, special operations and intelligence for the U.S. and allied forces. Cubic Mission Solutions provides networked Command, Control, Communications, Computers, Intelligence, Surveillance and Reconnaissance (C4ISR) capabilities for defense, intelligence, security and commercial missions. For more information about Cubic, please visit the company's website at www.cubic.com or on Twitter @CubicCorp.