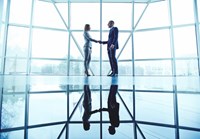 Cubic Transportation Systems (CTS), a business unit of Cubic Corporation (NYSE:CUB), today announced its support of a decision by the Australian Government to award iMOVE Cooperative Research Centre (CRC) a 10-year grant worth AU$55 million to develop future technologies for smart transport and mobility in Australia. iMOVE CRC is a collaborative consortium of industry and technology innovators as well as government and academia. As part of the CRC, Cubic aims to address the lack of coordination between the various transport systems through the development of advanced multimodal transportation management solutions that can tackle complex and costly congestion.
"Transport is the backbone of our economy. As a country, we will fall behind if we cannot find ways to move our people and goods more effectively and efficiently," said Ian Christensen, bid lead for iMOVE CRC. "Our roads are congested and our transport systems are not coordinated and it's getting worse in many cases. The establishment of the iMOVE CRC gives us an immediate opportunity to tackle this situation, by harnessing the power of 'big data,' developing smarter solutions and engaging with the community to trial and deploy new technologies."
"Cubic wants to provide a system that gives a holistic, multimodal network view while using big data and predictive analytics to identify where congestion is likely to occur and how we can reduce it," said Tom Walker, senior vice president and managing director of CTS-Asia Pacific. "We are excited by the opportunities presented by iMOVE and look forward to working with the CRC and its partners to develop world-leading intelligent transport technologies."
The CRC is being established to help address the growing pressure on Australia's transportation systems caused by population growth and aging infrastructure. Research and development outcomes are aimed at reducing congestion, enhancing freight productivity and creating a more seamless multimodal travel experience for passengers.
About Cubic Corporation
Cubic Corporation designs, integrates and operates systems, products and services focused in the transportation, defense training and secure communications markets. Cubic Transportation Systems is a leading integrator of payment and information technology and services to create intelligent travel solutions for transportation authorities and operators. Cubic Global Defense is a leading provider of live, virtual, constructive and game-based training solutions, special operations and intelligence for the U.S. and allied forces. Cubic Mission Solutions provides networked Command, Control, Communications, Computers, Intelligence, Surveillance and Reconnaissance (C4ISR) capabilities for defense, intelligence, security and commercial missions.