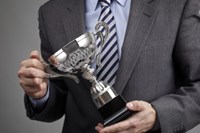 Cubic Transportation Systems (CTS), a business unit of Cubic Corporation (NYSE:CUB), the University of Melbourne and its project partners received the "OpenGov Recognition of Excellence" award from OpenGov Asia for the development of the Australian Integrated Multimodal EcoSystem (AIMES), formerly known as the National Connected Multimodal Transport Test Bed. AIMES is Australia's first large-scale, live ecosystem for implementing and testing connected transport technologies. The award recognizes innovative and disruptive use of technology in the public sector and highlights the use of information communication technology to make government smarter, more agile, efficient and transparent.
"Cubic is delighted that OpenGov Asia recognized the merits and promise of the AIMES test bed and wishes to congratulate the University of Melbourne and all our project partners on a job well done," said Tom Walker, senior vice president and managing director, CTS Asia-Pacific. "AIMES is a vital ecosystem for testing new connective technologies and it has been providing tangible benefits to all stakeholders from the day it was first implemented."
Since going live in April 2017, the test bed has been collecting data on public, private, freight and active transportation to support the strategic decision making in improving traffic planning, public transport efficiency and pedestrian flows, while paving the way for the introduction of connected and autonomous vehicles. Using thousands of intelligent sensors positioned on roads and transportation infrastructure across 6-square-kilometers in central Melbourne, the AIMES test bed will provide unprecedented insight of users on various ways to manage transport systems and road networks more efficiently.
Cubic signed a Memorandum of Understanding with the University of Melbourne in October 2016 to deliver the project. Cubic's transport management platform sits at the core of the test bed, providing an enhanced system for data usage and analysis by transportation planners.
The award was accepted by Majid Sarvi, professor in transport for smart cities, on behalf of the University of Melbourne and various AIMES partners.
About Cubic Corporation
Cubic Corporation designs, integrates and operates systems, products and services focused in the transportation, defense training and secure communications markets. Cubic Transportation Systems is a leading integrator of payment and information technology and services to create intelligent travel solutions for transportation authorities and operators. Cubic Global Defense is a leading provider of live, virtual, constructive and game-based training solutions, special operations and intelligence for the U.S. and allied forces. Cubic Mission Solutions provides networked Command, Control, Communications, Computers, Intelligence, Surveillance and Reconnaissance (C4ISR) capabilities for defense, intelligence, security and commercial missions.