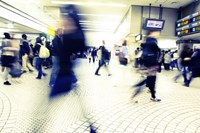 Cubic Transportation Systems (CTS), a business unit of Cubic Corporation (NYSE:CUB), today announced that Dirk Van de Meerssche, sales and marketing director of the Asia Pacific region at CTS, will provide an overview of the National Connected Multimodal Transport (NCMT) Test Bed at the 15th ITS Asia Pacific Forum and Exhibition in Hong Kong from June 26 – 29. Hosted by ITS Asia Pacific, with the theme "Metropolitan Transportation Infrastructure in Smart Cities," the ITS Asia Pacific Forum is one of the region's largest gatherings of intelligent transportation professionals.
The NCMT Test Bed is the world's first live urban laboratory capable of large-scale testing and implementation of emerging connected transport technologies in a complex urban environment. The Cubic Transport Management platform forms the core of the test bed by providing an enhanced system for data usage and analysis by transportation planners.
As a joint project between Cubic and the University of Melbourne, the test bed will cover 4.5-square-kilometers of city and include a range of diverse, intelligent and distributed sensors that will study, test and deploy a variety of transportation connectivity innovations and management approaches.
Van der Meerssche will present at the following session:
Establishing a live National Connected Multimodal Transport Test Bed (TS1-1.3)

Tuesday, June 27, 2:00 p.m. – 3:30 p.m. (local time); Conference Hall 04, Hong Kong Science Park, ShaTin.
The accompanying exhibition will showcase the latest ITS achievements and innovations from across the region. Conference attendees can visit Cubic at the ITS Australia Stand, Number A35-36.
To join in the conversation live on social media, follow Cubic Transportation Systems @CubicTS and use the hashtag #ITSAP17.
About Cubic Corporation
Cubic Corporation designs, integrates and operates systems, products and services focused in the transportation, defense training and secure communications markets. As the parent company of two major business units, Cubic's mission is to increase situational awareness and understanding for customers worldwide. Cubic Transportation Systems is a leading integrator of payment and information technology and services to create intelligent travel solutions for public transit authorities and operators. Cubic Global Defense is a leading provider of realistic combat training systems, secure communications and networking and highly specialized support services for military and security forces of the U.S. and allied nations.