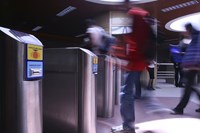 Cubic Transportation Systems (CTS), a business unit of Cubic Corporation (NYSE: CUB), today announced that the technology licensing agreement with Transport for London (TfL) positions the company to deliver an unprecedented level of performance for public transit payment solutions. The licensed TfL solutions, EMV contactless chip card and mobile device payment acceptance and account-based systems can now be available for transportation agencies worldwide.
Under the agreement, CTS was given the right to adapt London's contactless payment system, developed by TfL, and combine it with Cubic's own comprehensive NextCity suite of revenue and fare management systems to provide the best features of both. The deal, worth up to £15 million (approximately $20 million at current exchange rates), was announced in London on July 13, 2016.
Cubic sees strong interest worldwide in both contactless/mobile payment and account-based systems in its core market of revenue management and fare collection systems for transit agencies and operators.
"We believe the TfL deal is not only strategically significant for our transportation business, but will also deliver superior value for our customers and gives us a significant competitive advantage in upcoming fare collection procurements," said Bradley H. Feldmann, president and chief executive officer, Cubic Corporation.
Contactless smart card payment is widely used in mass transit, but the majority of those systems are "closed" and use proprietary payment cards. The London system supports both proprietary and "open payments" using EMV contactless cards and mobile devices, and is compatible with the global chip card standards recently introduced in the U.S.
"Access to TfL's technology gives us a major competitive advantage as the transit sector continues to move in the direction of open and mobile payments and account-based systems," said Matt Cole, president of Cubic Transportation Systems. "Now we can blend the best elements of technology that has been proven at scale in the world's two largest open and account-based payment transit systems—London and Chicago—both delivered by Cubic, and bring the best-of-breed to all of our customers as a single, global, product suite."
Transit agencies can choose to create their own back office systems or use existing technology from Cubic, but by using the combined technology from Cubic and TfL, they reduce risk, cost and time-to-market.
Further, the technology is already proven at scale in London and Chicago. More than 500 million journeys have been made by more than 12 million unique contactless payment cards from 90 different countries, as well as using contactless-enabled mobile devices. Around one in 10 contactless payment transactions in the U.K. are made on TfL's network, making it one of the largest contactless merchants worldwide. Cubic also recently announced the processing of the one billionth contactless transaction on the Chicago Ventra system launched in 2013.
Outside London and Chicago, CTS also provides smart card ticketing technology to a number of world cities, including San Francisco, San Diego, Los Angeles, Atlanta, Vancouver, Brisbane and Sydney, as well as the magnetic stripe MetroCard system in New York, where the license agreement teams Cubic and TfL in the procurement for New York's open and contactless New Fare Payment System. Every year, more than 24 billion transportation payment transactions are processed using Cubic payment and information systems worldwide.
About Cubic Corporation
Cubic Corporation designs, integrates and operates systems, products and services focused in the transportation, defense training and secure communications markets. Cubic Transportation Systems is a leading integrator of payment and information technology and services to create intelligent travel solutions for transportation authorities and operators. Cubic Global Defense is a leading provider of live, virtual, constructive and game-based training solutions, special operations and intelligence for the U.S. and allied forces. Cubic Mission Solutions provides networked Command, Control, Communications, Computers, Intelligence, Surveillance and Reconnaissance (C4ISR) capabilities for defense, intelligence, security and commercial missions.