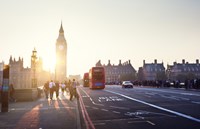 Cubic Transportation Systems (CTS), a business unit of Cubic Corporation (NYSE: CUB), today announced that Andy Taylor, strategy director for CTS, will speak on the conveniences of Mobility as a Service (MaaS) at the MaaS Market: Concept to Delivery conference. The event, organized by the publisher ITS International, will be held in London, United Kingdom from March 22 – 23 and will bring together experts in the transportation and intelligent transportation systems (ITS) industries to discuss and formulate the future of MaaS worldwide.
Public transport utilization is increasing in urban areas because of growing populations – a trend that requires new transportation models to deliver efficient solutions for both the user and operator. MaaS has the ability to help drive social equity and cost savings to cities, all while delivering benefits to the traveler.
"At its core, MaaS is about planning a complete journey, from point A to B, using one or any combination of travel modes while purchasing all mobility services from a single account," said Taylor. "I look forward to sharing the convenient one account solution Cubic can offer to my industry colleagues at this event."
Taylor will present at the following session:
The MaaS transformation: How much for the convenience?
Thursday, March 23, 9:25 a.m. (local time); 99 City Road Conference Centre, London, United Kingdom
Follow Cubic Transportation Systems at @CubicTS or #NextCity to join the conversation. To participate in the MassMarket conversation during the event, use #ITS_Int_News.
About Cubic Corporation
Cubic Corporation designs, integrates and operates systems, products and services focused in the transportation, defense training and secure communications markets. Cubic Transportation Systems is a leading integrator of payment and information technology and services to create intelligent travel solutions for transportation authorities and operators. Cubic Global Defense is a leading provider of live, virtual, constructive and game-based training solutions, special operations and intelligence for the U.S. and allied forces. Cubic Mission Solutions provides networked Command, Control, Communications, Computers, Intelligence, Surveillance and Reconnaissance (C4ISR) capabilities for defense, intelligence, security and commercial missions.