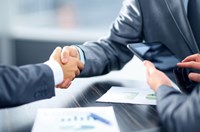 Cubic Corporation (NYSE:CUB) today announced that its Cubic Transportation Systems (CTS) business division was awarded a $6.5 million contract from the Metropolitan Atlanta Rapid Transit Authority (MARTA) to migrate the Cubic-operated back office system for the Breeze Card to the cloud. The migration will be implemented through Cubic's collaboration with Microsoft and the Microsoft Azure cloud platform.
"Throughout the years, Cubic has successfully helped MARTA and the Greater Atlanta area with many of its transportation challenges while continually improving the transit experience in the city," said Matt Cole, president of CTS. "Moving the Breeze Card system to the cloud will not only provide MARTA with enhanced functionality, but it also marks an important step in the journey to provide the best-in-class, next-generation transit service in Atlanta."
Under the contract, Cubic will also upgrade the Breeze Card system to the latest release of its NextFare® central system software. The upgrade will improve user experience and operational efficiency by optimizing the database performance and data warehouse capability. This will make it easier for MARTA to maintain payment card industry (PCI) compliance and will provide enhanced network security and disaster recovery features.
"Our relationship with Cubic keeps us moving forward and into the future," said Torrey Kirby, interim assistant general manager of technology and chief information officer of MARTA. "Moving to the cloud will allow MARTA to leverage all of the new storage and security features, while becoming less dependent on often vulnerable, on-premises solutions – all to the benefit of Atlanta's travelers."
"We are happy to support Cubic and the City of Atlanta as they work to upgrade Atlanta's transportation systems to meet the demands of their growing urban community," said Mike Donlan, vice president of U.S. state and local government at Microsoft. "This collaboration is a great example of how cities are leveraging our modern cloud platform, Microsoft Azure, to help cities expand their smart city capabilities and serve citizens where they work, live and play."
CTS designed and delivered MARTA's Breeze Card, a card-based automated fare collection (AFC) system that utilizes Cubic's smart card ticketing technology, in 2006. Since then, Cubic has been providing maintenance and onsite support to MARTA and maintenance support to its regional partners, the State Road and Tollway Authority (SRTA), Cobb and Gwinnett counties and the Atlanta Streetcar. The Breeze Card system currently generates more than 106 million rides annually.
About Cubic Corporation
Cubic Corporation designs, integrates and operates systems, products and services focused in the transportation, defense training and secure communications markets. Cubic Transportation Systems is a leading integrator of payment and information technology and services to create intelligent travel solutions for transportation authorities and operators. Cubic Global Defense is a leading provider of live, virtual, constructive and game-based training solutions, special operations and intelligence for the U.S. and allied forces. Cubic Mission Solutions provides networked Command, Control, Communications, Computers, Intelligence, Surveillance and Reconnaissance (C4ISR) capabilities for defense, intelligence, security and commercial missions.