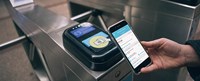 Cubic Transportation Systems (CTS), a business unit of Cubic Corporation (NYSE:CUB), today announced the award of a $12.7 million, two-year contract extension from the Metropolitan Atlanta Rapid Transit Authority (MARTA) for Automated Fare Collection (AFC) maintenance services. The contract also includes options for an upgrade path to support future updates, which could increase the value to $52 million if all options are exercised.
CTS designed and delivered MARTA's Breeze Card, a card-based AFC system that utilizes Cubic's smart card ticketing technology, in 2006. Since then, Cubic has been providing maintenance and onsite support to MARTA and maintenance support to its regional partners: the Georgia Regional Transportation Authority (GRTA), Cobb and Gwinnett counties and the Atlanta Streetcar. The Breeze Card system currently generates more than 106 million rides annually.
Under the contract extension, CTS will continue to support MARTA and its regional partners with their AFC system. These services include first-line hardware support, corrective and preventive maintenance services, local infrastructure support, as well as software support and maintenance management.
"Cubic has proudly served the Greater Atlanta area for more than 10 years and we're delighted to extend our support to MARTA and its regional partners," said Matt Cole, president of Cubic Transportation Systems. "Cubic looks forward to assisting those transit authorities on their paths to serving their stakeholders now and well into the future."
The contract extension will help support the growth of transit services in and around Atlanta, which is quickly becoming one of the fastest growing urban areas in the country.
About Cubic Corporation
Cubic Corporation designs, integrates and operates systems, products and services focused in the transportation, defense training and secure communications markets. Cubic Transportation Systems is a leading integrator of payment and information technology and services to create intelligent travel solutions for transportation authorities and operators. Cubic Global Defense is a leading provider of live, virtual, constructive and game-based training solutions, special operations and intelligence for the U.S. and allied forces. Cubic Mission Solutions provides networked Command, Control, Communications, Computers, Intelligence, Surveillance and Reconnaissance (C4ISR) capabilities for defense, intelligence, security and commercial missions.