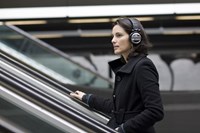 Cubic Transportation Systems (CTS), a business unit of Cubic Corporation (NYSE:CUB), and Mastercard (NYSE:MA) today announced the publication of their report about transportation demand and retail impact assessment resulting from New York City's "Car Free Day NYC" at the Smart City Expo World Congress, held in Barcelona from November 15 – 17. Cubic and Mastercard leveraged the Urbanomics Mobility Project, a Cubic-Mastercard co-developed data analysis toolset for fueling smarter and more inclusive cities, in undertaking their assessment based on public transportation data and insights derived from anonymized and aggregated transaction data.
Cubic's Urban Insights group and Mastercard collaborated on a request from New York City Councilman Ydanis Rodriguez to measure the impact of Car Free Day NYC held in April. As the transportation committee chair of the city's first Earth Day event, Councilman Rodriguez organized the initiative with a strong coalition of local support toward the goal of reducing single-occupancy vehicle use and stimulating dialogue around environmental issues.
Specific objectives of Councilman Rodriguez's request included measuring changes in public transportation demand, traveler spend behavior around car-free zones and the impact of redistributed traffic on business areas in proximity to car-free zones. The one-day event resulted in an increase of more than 30,000 riders than the season's daily average on the MTA subway, and public data for other services like bike share also showed a statistically significant increase in usage. For retail stores, there were no significant adverse effects on commercial activity in the surrounding areas, despite road closures created to facilitate and support the spirit of the event.
"Car Free Day NYC is about rethinking street space and how our largest urban environments move people around," said Council Transportation Chair Ydanis Rodriguez. "We made great strides in the inaugural event this year, measured by the great partnership of Cubic and Mastercard, and we hope to build upon these efforts on Earth Day in 2017. Now more than ever, we must be cognizant of our impact on the environment and choosing to travel in modes that don't damage or hurt our planet is an easy way to contribute to a healthier planet. We showed on the first-ever Car Free Day in New York City that not only can we lower our reliance on single occupancy vehicles, but that it is as good for our small businesses as our environment. I look forward to even more success in year two and thank Cubic and Mastercard for their great work."
"The power of Cubic and Mastercard's partnership demonstrates how we were able to combine public transportation data and insights derived from anonymized and aggregated transaction data to deliver a meaningful analysis on the impact of the event," said Matt Cole, president of Cubic Transportation Systems. "Public agencies often don't have ready access to the depth of resourcing in data science to conduct such a study around singular events. By providing these services in combination with the technical tools, we can help customers conduct deeper analyses on the impact to transportation and on merchants and the tax base to build on this year's success and improve the next."
"Mastercard and Cubic delivered data analytics around a smart city policy intervention, serving as a springboard for future analysis for New York City," said Carlos Menendez, president Enterprise Partnerships, Mastercard. "By combining insights from city government, the private sector and academia we stand a better chance to address the pressing issues of managing traffic congestion and improving quality of life for residents and visitors alike."
Urban Insights and Mastercard will demonstrate the Urbanomics Mobility Project on Mastercard's stand #C318 during the Smart City Expo, held at the Gran Via Venue in Barcelona, Spain. Follow Cubic Transportation Systems at @CubicTS on Twitter and join the conversation on social media with #SCEWC16.
About Cubic Corporation
Cubic Corporation designs, integrates and operates systems, products and services focused in the transportation, defense training and secure communications markets. Cubic Transportation Systems is a leading integrator of payment and information technology and services to create intelligent travel solutions for transportation authorities and operators. Cubic Global Defense is a leading provider of live, virtual, constructive and game-based training solutions, special operations and intelligence for the U.S. and allied forces. Cubic Mission Solutions provides networked Command, Control, Communications, Computers, Intelligence, Surveillance and Reconnaissance (C4ISR) capabilities for defense, intelligence, security and commercial missions.
About Mastercard
Mastercard (NYSE: MA), is a technology company in the global payments industry. We operate the world's fastest payments processing network, connecting consumers, financial institutions, merchants, governments and businesses in more than 210 countries and territories. Mastercard products and solutions make everyday commerce activities – such as shopping, traveling, running a business and managing finances – easier, more secure and more efficient for everyone. Follow us on Twitter @MastercardNews, join the discussion on the Beyond the Transaction Blog and subscribe for the latest news on the Engagement Bureau.