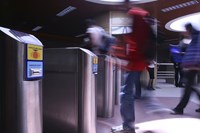 Cubic Corporation (NYSE: CUB) today announced that its Cubic Transportation Systems (CTS) business division was selected by the New York Metropolitan Transportation Authority (MTA) to replace the iconic MetroCard with a proven, next-generation fare payment system similar to that used on the bus, Tube and rail services operated by Transport for London (TfL). The base contract award is $539.5 million with additional options worth $33.9 million. The award has been approved by the MTA's Board and is subject to contract finalization.
"Today's vote is a tremendous win for New Yorkers, paving the way for flexible payment options, a streamlined trip through the region's public transit, and updated equipment that will help save money in operating costs. Together with Cubic, we look forward to building the MTA of tomorrow," said Joseph J. Lhota, chairman of the MTA.
"We are extremely pleased with being awarded this contract, which reinforces Cubic's position as the industry leader in advanced transportation payment and information solutions," said Brad Feldmann, president and chief executive officer of Cubic Corporation.
"Cubic helped revolutionize fare payment with the MetroCard's introduction in 1992 and we are honored to play an important role in the future of mobility in New York," said Matt Cole, president of Cubic Transportation Systems. "Cubic's solution not only provides customers with a better and faster way to pay for transit, but also creates expanded economic opportunity for New Yorkers and job creation across the state through the involvement of minority and women-owned enterprises to help implement the new system."
The new system allows customers to create personalized transit accounts to see ride history, check balances, add value as well as report lost or stolen cards to protect their funds. They will also have the option of using payment media such as credit and debit cards and mobile devices at the bus or turnstile, instead of purchasing and adding value to a separate fare card, to offer a retail payment experience to transit. For those customers without a bank card or who prefer not to use one, a contactless card option will still be available with the same account management convenience features. Mobile phones can also be used like ticket vending machines to check account balances and recharge fare accounts anywhere. As a result, customers will experience greater convenience and shorter lines, allowing them to move faster through the transit system.
The initiative will reduce costs for the MTA by significantly reducing the dispensing of fare media, will streamline fare calculation and phase out 20-year-old equipment that is more costly to maintain each year. Ultimately, the new system will provide an enhanced and integrated travel experience across the region including seamless access to Long Island Rail Road (LIRR) and Metro-North Rail Road.
"We are thrilled that Western New York's productive workforce will contribute to the New York MTA capital program," said Tom Kucharski, President and CEO of Invest Buffalo Niagara. "This innovative plan will help to stimulate economies all over New York State, bringing new jobs and opportunities to residents and businesses in the Buffalo Niagara region."
"Modernizing the fare payment system is a boon for riders. It will make public transit more convenient, more accessible and more efficient," said John Raskin, executive director of the Riders Alliance. "The new fare payment system will also save money for the MTA, and that savings can be used to improve transit operations for millions of daily riders. Moving on from the MetroCard will be a win-win for riders and the MTA."
Cubic will be responsible for the design, integration, supply and implementation of the new fare payment system; associated services for platform hosting, hardware and software maintenance; and transition services including supplemental call center support. Equipment will include fare validators and new configurable ticket vending machines in the MTA's 472 subway stations and 6,000 buses. The contract includes an option to support LIRR and Metro-North Rail Road with the purchase of additional validation and vending equipment.
Cubic's partners statewide will provide manufacturing, call center and marketing services to the MTA. Transport for London (TfL), operator of the world's largest open payment and contactless-based fare collection system, and Mastercard, a global leader in financial services with a strong New York presence, are also Cubic partners in the contract.
Shashi Verma, chief technology officer at TfL, added, "As cities become smarter and more reliant on public transport, technology like this provides customers with a simple and convenient way of paying the right fare at the right time, without the need to purchase a ticket. This contactless ticketing system is helping commuters all around the world and it's great that New Yorkers will benefit from the technology."
New York's transit system customers will still be able to use MetroCards during the transition.
About Cubic Corporation
Cubic Corporation designs, integrates and operates systems, products and services focused in the transportation, defense training and secure communications markets. Cubic Transportation Systems is a leading integrator of payment and information technology and services to create intelligent travel solutions for transportation authorities and operators. Cubic Global Defense is a leading provider of live, virtual, constructive and game-based training solutions, special operations and intelligence for the U.S. and allied forces. Cubic Mission Solutions provides networked Command, Control, Communications, Computers, Intelligence, Surveillance and Reconnaissance (C4ISR) capabilities for defense, intelligence, security and commercial missions.