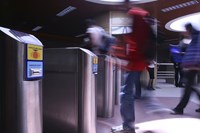 Cubic Transportation Systems (CTS), a business unit of Cubic Corporation (NYSE:CUB), today announced another milestone for the Cubic-designed Opal smart card ticketing system with retirement of the last paper tickets in Sydney, Australia. Launched in December 2012, the Opal card system, which was designed, installed and operated by Cubic, is now used for 95 percent of all public transport trips. To date, customers have taken 800 million trips and more than 7.5 million cards have been issued. The transition to an Opal-only system was aided by Cubic's development of a single-trip, disposable smart card ticket.
Starting this month, the old-style paper tickets for public transport will no longer be sold or accepted, marking the completion of Sydney's transition to the modern, integrated electronic-ticketing system. Customers who don't have an Opal card can now purchase the single-trip Opal smart cards through 255 Opal top-up machines, which are located at train, light rail and ferry stops.
"Opal is enormously popular with Sydney and regional customers who no longer need to fumble for coins or wait in long ticket queues," said Tom Walker, Asia-Pacific managing director for Cubic Transportation Systems. "The introduction of the single-trip smart cards provides a last resort option for customers who don't have an Opal card at the time of travel."
The transition to a single electronic ticketing system also has major benefits for transport agencies and operators across Sydney and surrounding regional areas. Opal card technology will make it much easier to gather essential information, with strong privacy controls, to study the travel patterns of frequent and infrequent public transport users. The collected data then becomes invaluable for transport planners, as it will offer a better understanding of how customers use the system, so services can be adjusted to meet the demand.
An Opal-only system is also expected to save millions of dollars through reducing fare evasion, particularly by the misuse of concession paper tickets, which currently cost taxpayers $22 million a year.
About Cubic Corporation
Cubic Corporation designs, integrates and operates systems, products and services focused in the transportation, defense training and secure communications markets. Cubic Transportation Systems is a leading integrator of payment and information technology and services to create intelligent travel solutions for transportation authorities and operators. Cubic Global Defense is a leading provider of live, virtual, constructive and game-based training solutions, special operations and intelligence for the U.S. and allied forces. Cubic Mission Solutions provides networked Command, Control, Communications, Computers, Intelligence, Surveillance and Reconnaissance (C4ISR) capabilities for defense, intelligence, security and commercial missions.