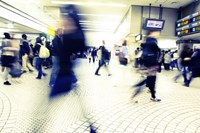 Cubic Transportation Systems (CTS), a business unit of Cubic Corporation (NYSE:CUB), today announced a $40.3 million contract extension from the Metropolitan Transportation Authority (MTA) New York City Transit (NYCT) for software programming and maintenance support for the agency's MetroCard Automated Fare Collection (AFC) system on an as-needed basis until the system is decommissioned, which is expected to occur in 2022. MTA's New Fare Payment System, featuring mobile ticketing and open payments via contactless bankcards, will replace MetroCard and operate in parallel with the new system until its retirement.
The contract extension will include equipment purchases to support continued rollout of the Select Bus Service, an upgrade to system security standards, and a purchase of turnstiles and end cabinets to allow for fare control area improvements supporting various station-related programs. Additionally, new equipment for the Cortlandt Street Station project, software and technical support services for the AFC system, and ongoing state-of-good-repair work will be supported.
"Cubic has proudly served New York's public transit system for more than 20 years with the introduction of the iconic MetroCard, and we're pleased to continue our partnership with the MTA," said Matt Cole, president of Cubic Transportation Systems.
CTS designed and delivered the MetroCard system to the New York MTA in 2003. Since that time, Cubic has continued to support the MTA through various projects including the introduction of the Select Bus Service, the Second Avenue Subway Project, the Number 7 line extension, creation of Barclays Center transit hub, the South Ferry Terminal, Tompkinsville Station, the Fulton Street Transit Center, the Westchester Bee-Line and the recovery post-Superstorm Sandy, among many others.
About Cubic Corporation
Cubic Corporation designs, integrates and operates systems, products and services focused in the transportation, defense training and secure communications markets. Cubic Transportation Systems is a leading integrator of payment and information technology and services to create intelligent travel solutions for transportation authorities and operators. Cubic Global Defense is a leading provider of live, virtual, constructive and game-based training solutions, special operations and intelligence for the U.S. and allied forces. Cubic Mission Solutions provides networked Command, Control, Communications, Computers, Intelligence, Surveillance and Reconnaissance (C4ISR) capabilities for defense, intelligence, security and commercial missions.