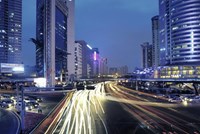 Cubic Corporation (NYSE:CUB) today announced its Cubic Transportation Systems (CTS) business division is releasing the Cubic NextBus next-generation platform to selected clients. This new platform from NextBus, the leader in real-time passenger information (RTPI) systems, is designed for multimodal transit agencies, authorities and operators. It introduces a new Transit Management as a Service (TMaaS) model utilizing latest technologies including public cloud architecture and machine learning capabilities for further enhanced RTPI, proactive transit fleet operations and mobile user experience.
NextBus RTPI provides a completely redesigned prediction algorithm and system that enables flexible data sourcing, greater accuracy and richer contextual information across more channels than ever – including mobile, energy-conscious and high-resolution displays at transit stations, bus stops and vehicles as well as APIs with other applications. Based on the NextBus RPTI core platform, planned new modules of the NextBus platform will deliver greater customer experience fully integrated with journey planning, intelligent information analytics and mobile payment capabilities.
"The next-generation NextBus platform is entirely new and built from the ground up by combining NextBus' experience in RTPI with Cubic's expertise in urban revenue management, systems integration and turnkey services for transportation agencies," said Matt Cole, president of Cubic Transportation Systems. "Achieving this market launch milestone is very gratifying for our entire team because it is the culmination of a major commitment—and investment—made by Cubic over the last two years to help move NextBus and its customers forward into the future."
The next-generation NextBus platform will be demonstrated at the American Public Transportation Association Annual Meeting & EXPO on October 9–12 at the Georgia World Congress Center in Atlanta. It will be available to the broader NextBus customer base during 2018.
About Cubic Corporation
Cubic Corporation designs, integrates and operates systems, products and services focused in the transportation, defense training and secure communications markets. Cubic Transportation Systems is a leading integrator of payment and information technology and services to create intelligent travel solutions for transportation authorities and operators. Cubic Global Defense is a leading provider of live, virtual, constructive and game-based training solutions, special operations and intelligence for the U.S. and allied forces. Cubic Mission Solutions provides networked Command, Control, Communications, Computers, Intelligence, Surveillance and Reconnaissance (C4ISR) capabilities for defense, intelligence, security and commercial missions.