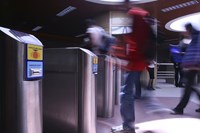 Cubic Transportation Systems (CTS), a business unit of Cubic Corporation (NYSE:CUB), today announced that John Pickworth, business development director for CTS, will participate in a panel discussion highlighting the role of transport in the Northern England economy at the North of England Transport Summit. Organized by the Transport Times, the event, held at Midland Hotel in Manchester, United Kingdom, on December 7, brings together key politicians and practitioners to discuss and debate the future transport strategy for the North of England.
At the summit, Pickworth will discuss how the region can benefit from a single approach to smart ticketing. In addition, he will introduce improved transport services, encouraging greater inter-modality across cities through a compelling customer proposition, to help boost the Northern England economy. Pickworth will also address how this approach will drive patronage growth on public transport, improve network optimization and lead to reduced congestion on the surrounding highways.
"An integrated, well-understood and easily accessible ticketing system covering multiple regions and modes of travel, and based on a single account such as Cubic's One Account technology, is central to the idea of smart travel," Pickworth said. "Northern England is taking all the right steps in making integrated ticketing a reality, through its Smart North initiative. Once implemented, the scheme will bring Northern England benefits comparable to what the Ventra card, Oyster card and contactless payment have brought commuters and transport service operators in other major cities around the world, such as Chicago and London."
"Transport is crucial if we are to bridge the productivity gap between London and the southeast and north regions of England," added Professor David Begg, publisher and chief executive of Transport Times. "While big transport infrastructure projects including HS2, HS3 and Trans-Pennine Road tunnel grab the headlines, it is smaller schemes, such as smart ticketing and information, which will have just as much of a transformational impact on the traveling public."
Pickworth will take part in the following panel session:
Session 2: The role of transport in boosting the economy in the North
Wednesday, December 7, 1:00 – 3:00 p.m. at the Midland Hotel, Manchester, United Kingdom
Panelists: Alex Hynes, Arriva Rail North Ltd; Alison Pilling, Transport for the North; Susan Evans, Alstom UK & I; Giles Fearnley, First Group; Dave Newton, Arup.
Cubic has been a global leader in intelligent transportation solutions for more than 45 years, processing more than 24 billion transactions annually and serving more than 38 million people every day.
About Cubic
Cubic Corporation designs, integrates and operates systems, products and services focused in the transportation, defense training and secure communications markets. Cubic Transportation Systems is a leading integrator of payment and information technology and services to create intelligent travel solutions for transportation authorities and operators. Cubic Global Defense is a leading provider of live, virtual, constructive and game-based training solutions, special operations and intelligence for the U.S. and allied forces. Cubic Mission Solutions provides networked Command, Control, Communications, Computers, Intelligence, Surveillance and Reconnaissance (C4ISR) capabilities for defense, intelligence, security and commercial missions.