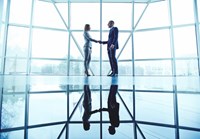 Cubic Transportation Systems (CTS), a business unit of Cubic Corporation (NYSE:CUB), today announced Jon Ramirez, business development director of tolling for CTS, will discuss the capabilities of Cubic's One Account and the benefits it provides for tolling agencies at the International Bridge, Tunnel and Turnpike Association (IBTTA) 85th Annual Meeting & Exhibition, taking place in Atlanta, Georgia from September 10–12. IBTTA is the worldwide association for the owners and operators of toll facilities and the businesses that serve tolling.
"Cubic's One Account provides the flexibility for operators to keep up with today's changing technology while preparing for the future," said Ramirez. "One Account leverages our account-based technology that transfers intelligence to the back office. The technology provides open user interfaces for third-party services to add their own systems and methods of recognizing their drivers or payments."
One Account allows travelers to purchase mobility services from a single source regardless of whether they are commuting with public, private or shared transportation to further enable multi-modal interoperability. For transport service providers, integrating all transport services into a single platform helps address issues of overcrowding and congestion and optimizes capacity for all transportation modes.
Ramirez will present at the following session within the "ETC Back Offices – The Cornerstone of a Smart City" technology track:
"The Future of Multi-Modal Interoperability: One Account for Transportation".
Tuesday, September 12, 10:30 a.m. – 12:00 p.m. (local time); Atlanta Marriott Marquis, 265 Peachtree Center Avenue NE, Atlanta, International Level Rooms 1-3.
Additionally, Cubic's accompanying exhibit at the conference will feature its Tolling Back Office solution designed for multiagency use while giving each tolling entity control over its own business rules, revenue apportionment and general ledger. The solution lays a solid foundation for account-based payment processing and customer services across entire states or multistate regions for any number of agencies or types of operators.
Attendees can visit Cubic at booth #410-412 and follow Cubic Transportation Systems at @CubicTS to join the social conversation.
About Cubic Corporation
Cubic Corporation designs, integrates and operates systems, products and services focused in the transportation, defense training and secure communications markets. Cubic Transportation Systems is a leading integrator of payment and information technology and services to create intelligent travel solutions for transportation authorities and operators. Cubic Global Defense is a leading provider of live, virtual, constructive and game-based training solutions, special operations and intelligence for the U.S. and allied forces. Cubic Mission Solutions provides networked Command, Control, Communications, Computers, Intelligence, Surveillance and Reconnaissance (C4ISR) capabilities for defense, intelligence, security and commercial missions.