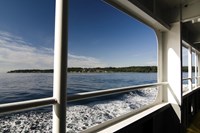 Cubic Transportation Systems (CTS), a business unit of Cubic Corporation (NYSE:CUB), today announced its participation in the first transport open payment trial in Australia with its customer Transport for New South Wales (TfNSW), similar to the technology in London where the contactless "pay as you go" bank card has logged more than one billion journeys to date. Details of the trial were announced today by New South Wales Minister for Transport and Infrastructure Andrew Constance. The trial on the popular Manly Ferry service leverages the technology behind the Opal smart card ticketing system, installed and operated by Cubic.
"The new contactless payment system is an exciting step into the future of ticketing for Australia as it promises greater convenience for commuters, coupled with greater efficiencies for operators," said Tom Walker, senior vice president and managing director of CTS Asia-Pacific. "Contactless offers freedom of choice, providing another convenient option for people using public transport. It should prove to be particularly attractive for the many tourists who now visit Sydney every year and want to explore this great city."
Sydney's new smart card ticketing system had been deliberately "future-proofed" to be able to easily accept new technologies like contactless, once they had been proven in markets overseas.
Contactless "pay as you go" bank card technology is not a replacement for Opal but will operate in tandem with the Opal card system. Cubic and Transport for London (TfL) pioneered contactless "pay as you go" technology with a launch on London buses in 2012, followed by a whole system rollout in 2014 across the rest of the TfL network.
The trial on the Sydney Ferries F1 Manly to Circular Quay service follows Cubic's announcement in December 2016 that the company had received a contract worth up to USD $8.8 million or AUD $12 million from TfNSW to deliver a trial of London-style open payments ticketing technology in Australia's largest city.
About Cubic Corporation
Cubic Corporation designs, integrates and operates systems, products and services focused in the transportation, defense training and secure communications markets. Cubic Transportation Systems is a leading integrator of payment and information technology and services to create intelligent travel solutions for transportation authorities and operators. Cubic Global Defense is a leading provider of live, virtual, constructive and game-based training solutions, special operations and intelligence for the U.S. and allied forces. Cubic Mission Solutions provides networked Command, Control, Communications, Computers, Intelligence, Surveillance and Reconnaissance (C4ISR) capabilities for defense, intelligence, security and commercial missions.