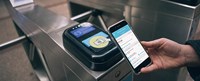 Cubic Transportation Systems (CTS), a business unit of Cubic Corporation (NYSE:CUB), today announced the milestone sales of 10 million tickets with its customer Rhein-Main-Verkehrsverbund GmbH (RMV), one of Europe's largest transport associations. The tickets were purchased through Cubic's mobile app, which was launched in 2010.
The app reached its first milestone in 2015 with five million tickets sold. Since that time, users have purchased another five million to reach a new milestone. Cubic has operated the mobile ticketing system for RMV since launch and continues to work with its customer to incorporate new features. RMV provides bus and train services for an annual ridership of 727 million.
"With 10 million tickets sold via mobile, RMV Mobile Ticketing is the most successful in Germany. It is a vital element of our strategy for a digital future," said Professor Knut Ringat, managing director, RMV. "As part of the growth potential for mobile ticketing, RMV and Cubic are also testing a new fare product that is based on distance traveled. The project, called 'RMV-smart,' is a three-year pilot with 20,000 test users."
"The app's ongoing progress and success shows that purchasing tickets via mobile phones resonates with customers because of the speed and simplicity involved," said Stefan Jacobs, managing director, CTS Deutschland GmbH. "We're excited to continue building on the system's functionality through our work with RMV– a transport operator that exemplifies forward thinking and innovation."
About Cubic Corporation
Cubic Corporation designs, integrates and operates systems, products and services focused in the transportation, defense training and secure communications markets. Cubic Transportation Systems is a leading integrator of payment and information technology and services to create intelligent travel solutions for transportation authorities and operators. Cubic Global Defense is a leading provider of live, virtual, constructive and game-based training solutions, special operations and intelligence for the U.S. and allied forces. Cubic Mission Solutions provides networked Command, Control, Communications, Computers, Intelligence, Surveillance and Reconnaissance (C4ISR) capabilities for defense, intelligence, security and commercial missions.