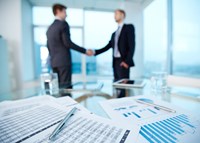 Cubic Corporation (NYSE: CUB) today announced that its Cubic Transportation Systems (CTS) business division was awarded a mobile ticketing contract for Germany's Rhein-Sieg area, which includes Cologne, the nation's fourth largest city. The contract will support the Cologne transport operator Kölner Verkehrs-Betriebe AG (KVB) and is valued at €920,000 for five years plus estimated €600,000 from transaction fees.
Cubic's mobile ticketing app enables customers to easily purchase tickets and manage their online accounts. The app is widely used in Frankfurt, Germany, where it has been in operation since 2010, selling over 10 million tickets through the mobile app to date.
Cubic's mobile ticketing solution was selected following a competitive Europe-wide bid which began in January 2017 by KVB, the local transport operator for all transport operators within Rhein-Sieg Transport Authority (VRS). VRS is the transport authority responsible for the Cologne and Bonn region, servicing a population of 3.3 million. KVB is the largest transport operator in the Rhein-Sieg area, with a fleet of 380 light rail vehicles and trams and over 300 buses and ticket sales of €241m in 2016.
"Cubic is delighted to have been awarded this new mobile ticketing contract, which follows the region's largest competitive tender in many years," said Stefan Jacobs, managing director, CTS Deutschland GmbH. "This contract expands our presence in Germany beyond Frankfurt and we're thrilled to work with KVB to deliver a fast, easy-to-use, mobile app-based system for customers in the Rhein-Sieg area."
"Together with Cubic, we want to take a step further towards a modern multimodal and digital mobility platform, both in Cologne and throughout the entire region. Environmentally friendly mobility should become increasingly attractive, simple and comfortable for our customers," said Peter Hofmann, KVB board member.
The Cubic mobile ticketing solution and online shop is expected to be operational in early 2019.
About Cubic Corporation
Cubic Corporation designs, integrates and operates systems, products and services focused in the transportation, defense training and secure communications markets. Cubic Transportation Systems is a leading integrator of payment and information technology and services to create intelligent travel solutions for transportation authorities and operators. Cubic Global Defense is a leading provider of live, virtual, constructive and game-based training solutions, special operations and intelligence for the U.S. and allied forces. Cubic Mission Solutions provides networked Command, Control, Communications, Computers, Intelligence, Surveillance and Reconnaissance (C4ISR) capabilities for defense, intelligence, security and commercial missions.