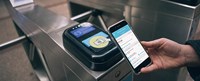 Cubic Transportation Systems (CTS), a business unit of Cubic Corporation (NYSE:CUB), today announced it will demonstrate innovations in mobile ticketing and contactless payments for the future of transport at the 2016 Australian Transport Summit, hosted by the Tourism & Transport Forum Australia, on August 26 in Sydney, Australia. In addition, Tom Walker, Asia-Pacific managing director for Cubic Transportation Systems, will address the usage of data to identify and solve transportation issues in a panel discussion.
Among its future-forward innovations, Cubic will feature new mobile payment technologies, including its award-winning mobile app used in Chicago. This technology allows commuters to pay for travel directly using their mobile phone or contactless bank card, as well as create a single mobility account to integrate trip planning, payment and account management.
"At present, huge quantities of data are being collected and stored. Used properly, this data can enable us to identify new solutions to old problems, such as congestion and overcrowding on public transport; over reliance on cars; and environmental pollution," said Walker. "The intelligent use of data greatly improves the standard of urban planning. What was previously guessed at, can now be accurately measured and interpreted."
Tom Walker will be speaking at the following panel:
Public transport and mobility: Harnessing the potential of data and technology
Friday, August 26, 11:40 a.m. (local time) at the Westin Hotel Ballroom in Martin Place, Sydney Australia
Panelists include: Rohan Lund (Group Chief Executive Officer, NRMA) and David Rohrsheim (General Manager, Australia and New Zealand, Uber); moderated by Walter Weber (Managing Director, NetBI),
About Cubic Corporation
Cubic Corporation designs, integrates and operates systems, products and services focused in the transportation, defense training and secure communications markets. Cubic Transportation Systems is a leading integrator of payment and information technology and services to create intelligent travel solutions for transportation authorities and operators. Cubic Global Defense is a leading provider of live, virtual, constructive and game-based training solutions, special operations and intelligence for the U.S. and allied forces. Cubic Mission Solutions provides networked Command, Control, Communications, Computers, Intelligence, Surveillance and Reconnaissance (C4ISR) capabilities for defense, intelligence, security and commercial missions.