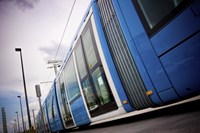 Cubic Corporation (NYSE:CUB) today announced its Cubic Transportation Systems (CTS) business division has signed a $185 million contract with Transport for London (TfL) for a three-year extension of services to London's Oyster and contactless ticketing system.
In addition, CTS has finalized the $553.8 million contract from the New York Metropolitan Transportation Authority (MTA) awarded in October for the design and implementation of New York's New Fare Payment System. CTS was selected by the MTA to replace the iconic New York MetroCard with a proven, next-generation fare payment system similar to that used on the bus, Tube and rail services operated by TfL. Matt Cole, president of CTS, signed the contract at MTA headquarters on November 1.
CTS's existing contract as TfL's revenue collection service provider has been extended for additional three years until 2025. The extension will deliver at least $26 million in guaranteed savings to TfL as Cubic continues to provide operational and maintenance services to London's Oyster and contactless ticketing system ,while still investing in further innovations to the benefit of public transport users in London.
"These significant contracts reflect the quality of our technology and years of first-class service provided to our longest standing customers. It also reinforces Cubic's position as the industry leader in advanced transportation payment and information solutions," said Matt Cole, president of Cubic Transportation Systems.
The contract also supports the delivery of a wide range of customer improvements across TfL from 2018, such as expanding the Mayor's "Hopper fare" to allow unlimited journeys on buses and trams within an hour, introducing weekly capping on Oyster to bring it in line with contactless ticketing and expanding pay as you go to cover the entire Elizabeth line.
"The introduction of Oyster and contactless ticketing has completely changed the way people pay for travel in London – making it easier and more convenient. This contract has already allowed us to deliver significant benefits to our customers. I look forward to continuing working closely with CTS to further improve the customer experience of traveling in London, while delivering significant savings," said Shashi Verma, Chief Technology Officer for TfL.
About Cubic Corporation
Cubic Corporation designs, integrates and operates systems, products and services focused in the transportation, defense training and secure communications markets. Cubic Transportation Systems is a leading integrator of payment and information technology and services to create intelligent travel solutions for transportation authorities and operators. Cubic Global Defense is a leading provider of live, virtual, constructive and game-based training solutions, special operations and intelligence for the U.S. and allied forces. Cubic Mission Solutions provides networked Command, Control, Communications, Computers, Intelligence, Surveillance and Reconnaissance (C4ISR) capabilities for defense, intelligence, security and commercial missions.