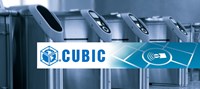 Cubic Transportation Systems (CTS), a business unit of Cubic Corporation (NYSE: CUB), and Transport for London (TfL)'s contactless bankcard system was awarded the 'Most Innovative Transport Project' at the National Transport Awards on October 8. The National Transport Award win is the seventh major award this year for Cubic and TfL's contactless system.
Launched in 2012, the contactless bankcard system was extended in 2014 to cover London's entire transit network – including Tube, rail, bus and tram services. Since the introduction of the contactless payment scheme, more than 180 million contactless journeys have been made across the network.
"This latest win is the result from more than 30 years of research and strong partnership with TfL. The project introduced a ground-breaking technology that worked effectively from the outset and from a technical, operational and customer perspective," said Matt Cole, president of Cubic Transportation Systems. "The technology provides a chance for a worldwide game changer to modernize the thinking about the need for tickets, and how to achieve interoperability between different public transport operators."
Cubic played a crucial role in the development of the payment system, spending three years researching and developing the Tri-Reader 3 to process contactless-enabled bankcards. It is also the first reader in the transport industry certified to read Oyster cards, Integrated Transport Smartcard Organization (ITSO) cards and Near Field Communication (NFC)-enabled devices.
The success of contactless bankcard payment is best represented by the fact that within one year of the launch, more than 20 percent of journeys are made using contactless bankcard payments every weekday. Furthermore, bankcards from 77 different countries have been used on the London system, bringing a new level of convenience for the millions of visitors who visit London each year.
About Cubic Corporation
Cubic Corporation designs, integrates and operates systems, products and services focused in the transportation, defense training and secure communications markets. As the parent company of two major business units, Cubic's mission is to increase situational awareness and understanding for customers worldwide. Cubic Transportation Systems is a leading integrator of payment and information technology and services to create intelligent travel solutions for public transit authorities and operators. Cubic Global Defense is a leading provider of realistic combat training systems, secure communications and networking and highly specialized support services for military and security forces of the U.S. and allied nations.