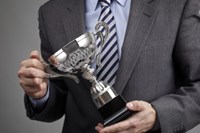 Cubic Transportation Systems (CTS), a business unit of Cubic Corporation (NYSE:CUB), and Transport for London (TfL) received the "London First Award for Innovation" at the London First Awards for bringing contactless bankcard technology to public transit in the capital. This is the ninth major award since 2015 recognizing Cubic and TfL's contactless payment system.
The awards ceremony, which took place at the British Museum, London, on January 25, celebrated London First's milestone anniversary and its major achievements over the past 25 years. London First, of which Cubic is a member, is a non-profit organization that promotes business interests in London.
Launched in 2012, the contactless bankcard system was extended in 2014 to cover London's entire transit network – including Tube, rail, bus and tram services. Since the introduction of the contactless payment scheme, more than 800 million contactless journeys have been made across the network. In 2016, Cubic and TfL agreed on a licensing deal for the use of London's contactless ticketing system worldwide, allowing Cubic to bring the state-of-the-art technology to other major cities around the world.
"We are honored that London First has named our technology as one of the major achievements in the last 25 years." said Shashi Verma, TfL's Chief Technology Officer. "London's transport system is renowned around the world, from the first Underground railway network in 1863 – to now introducing world leading contactless bankcard technology to make travel around the city simple and convenient for our customers. Our pay-as-you-go fare collection system has completely transformed the way millions of commuters pay for travel every day, with more than 800 million journeys now made using contactless payments using cards from around 100 countries across the world."
"We could not be more pleased to be recognized by London First for the innovation we are bringing to commuters," said Roger Crow, executive vice president and managing director of Europe, Cubic Transportation Systems. "We are thrilled that our long-standing partnership with TfL helps ensure transport plays a pivotal role in helping London First on its mission of making this great city the best place in the world to work, study and play."
About Cubic
Cubic Corporation designs, integrates and operates systems, products and services focused in the transportation, defense training and secure communications markets. Cubic Transportation Systems is a leading integrator of payment and information technology and services to create intelligent travel solutions for transportation authorities and operators. Cubic Global Defense is a leading provider of live, virtual, constructive and game-based training solutions, special operations and intelligence for the U.S. and allied forces. Cubic Mission Solutions provides networked Command, Control, Communications, Computers, Intelligence, Surveillance and Reconnaissance (C4ISR) capabilities for defense, intelligence, security and commercial missions. For more information about Cubic, please visit the company's website at www.cubic.com or on Twitter @CubicCorp.