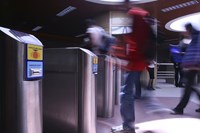 Cubic Transportation Systems (CTS), a business unit of Cubic Corporation (NYSE: CUB), and Transport for London (TfL) today announced the launch of the TfL Mobile Ticketing App for Oyster card users in London, England. The mobile app – designed by TfL and developed by Cubic – will allow Oyster card customers to manage their travel fares and payments, top up their cards and view their journey history on the go via Android or Apple iOS devices.
"This project exemplifies our strong partnership with TfL to innovate and deliver solutions that benefit the ultimate end user – TfL's customers," said Roger Crow, executive vice president and managing director of Europe, Cubic Transportation Systems. "This important step forward utilizes Cubic's leading-edge technology and builds on the mobile ticketing solutions we have developed for our U.S. and German customers."
A range of travel products, including pay-as-you-go, weekly, monthly or annual travel, can be bought using the app and then added to customers' Oyster cards after 30 minutes by simply touching the card on the yellow reader at London Underground, Docklands Light Railway, London Trams and TfL Rail stations as part of their journey. Mobile app purchases can also be added at London River piers and National Rail stations that accept Oyster cards.
"Pay-as-you-go with Oyster and contactless has delivered greater convenience for our customers and we are constantly trying to make further improvements," said Shashi Verma, chief technology officer at TfL. "As smartphones become an increasingly essential part of our customers' lives, we are introducing this app to make the process of buying and checking travel products as quick and convenient as possible."
Future updates will allow products to be delivered and picked up on any of TfL's 9,000 buses. Journey histories for view will also be expanded to include those paid via contactless pay- as-you-go bankcards. The TfL Mobile Ticketing App became available on September 7 for use on mobile devices including smartphones and tablets, and can be purchased through the App Store and Google Play Store.
About Cubic Corporation
Cubic Corporation designs, integrates and operates systems, products and services focused in the transportation, defense training and secure communications markets. Cubic Transportation Systems is a leading integrator of payment and information technology and services to create intelligent travel solutions for transportation authorities and operators. Cubic Global Defense is a leading provider of live, virtual, constructive and game-based training solutions, special operations and intelligence for the U.S. and allied forces. Cubic Mission Solutions provides networked Command, Control, Communications, Computers, Intelligence, Surveillance and Reconnaissance (C4ISR) capabilities for defense, intelligence, security and commercial missions.