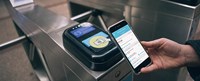 Cubic Transportation Systems (CTS), a business unit of Cubic Corporation (NYSE:CUB), today announced that John Hill, senior account director for the city of London, CTS, will speak about the growing usage and success of contactless bankcard payments at the 9th Transport Ticketing Global conference. Transport Ticketing is the world's largest public transport gathering, bringing together key industry players from the intelligent ticketing, passenger and smart cities industries. The conference will be held at the iconic Old Billingsgate Market, London, United Kingdom from January 24 – 25.
Contactless allows users to just tap and go, without the need for smart cards or top-up. The London system processes more than three million contactless taps per day. With contactless, transport agencies benefit from reduced operational costs and increased customer satisfaction. During his presentation, Hill will provide insights into the adoption of contactless bankcard payments based on data analysis from the London system over the past 12 months. He will also address the payment system as part of a wider ticketing strategy, as well as the technology, lessons learned and challenges.
In addition, Cubic will exhibit other payment technologies at Stand #A26. Experts will be on hand to share how transport agencies are leveraging Cubic's One Account vision to manage demand effectively, reduce fare collection costs and open new revenue streams. One Account is driven by Cubic's industry-leading back office, integrating account-based ticketing, closed-loop smart cards and open-loop bankcard payments on a single, cloud-based and open platform.
Other product demonstrations will include:
A single integrated reader for contactless bankcards, smart cards and QR codes.
Remote, secure, real-time control of gatelines.
Future concepts, including the gateless gateline.
Hill will present at the following session:
Platform One: Update on the Contactless Journey - Review of the last 12 months in contactless and the barriers which have been conquered and may still exist
Tuesday, January 24, 2:20 – 2:40 p.m. at the Old Billingsgate Market, London, United Kingdom
In addition, Tim Roberts, Cubic's senior sales and marketing manager, will participate in the following panel session:
Platform One: App based e-ticketing vs. contactless payment cards
Tuesday, January 24, 3:00 – 3:30 p.m. at the Old Billingsgate Market, London, United Kingdom
Follow Cubic Transportation Systems at @CubicTS or #NextCity to join the conversation. To participate in the Transport Ticketing Global buzz, use #TTGlobal.
About Cubic Corporation
Cubic Corporation designs, integrates and operates systems, products and services focused in the transportation, defense training and secure communications markets. Cubic Transportation Systems is a leading integrator of payment and information technology and services to create intelligent travel solutions for transportation authorities and operators. Cubic Global Defense is a leading provider of live, virtual, constructive and game-based training solutions, special operations and intelligence for the U.S. and allied forces. Cubic Mission Solutions provides networked Command, Control, Communications, Computers, Intelligence, Surveillance and Reconnaissance (C4ISR) capabilities for defense, intelligence, security and commercial missions.