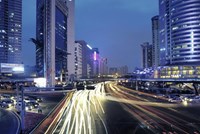 Cubic Transportation Systems (CTS), a business unit of Cubic Corporation (NYSE:CUB), today announced that Bob Deiter, vice president of strategic opportunities, will participate in a panel discussion on transportation and mobility in smart cities at the World Smart City Forum 2016 to be held in Singapore on July 13.
The conference will bring together experts and industry leaders to discuss the top "pain points" slowing the development of smart cities and explore the potential for efficiency gains when cities are physically and virtually connected. At the event, Deiter will discuss ways to improve mobility through smart transportation technology.
"With technological disruptors like mobile apps driving rapid change in transportation, agencies and governments are being challenged to adapt policy and legislation to embrace technology gains, while ensuring open access and protection of personal information," Deiter said. "Cubic has learned many lessons while implementing transportation systems and services for some of the world's most renowned transport authorities. However, the most important lesson is to continuously collaborate with the authorities and travelers to drive innovation."
With a focus on open architecture, integration and partnerships with other industry leaders, Cubic is working to promote a culture of innovation and collaboration that will help create smarter transport networks, enabling public transport, motorists, pedestrians, cyclists and freight to travel efficiently
Deiter will take part in the following panel session in addition to a live webcast (to access, use #worldsmartcity2016):
Panel Session 4: Smart City Pain Point – Transportation and Mobility
Wednesday, July 13, 3:40 p.m. – 5:50 p.m. at the Marina Bay Sands, Singapore
Panelists: Hiro Sakai, Railway Technical Research Institute, Japan Railways; Blair Ruble, Woodrow Wilson Center for Scholars; Gordon Feller, Meeting of the Minds
Cubic has been a global leader in intelligent transportation solutions for more than 45 years, processing more than 24 billion transactions annually and serving more than 38 million people every day.
About Cubic Corporation
Cubic Corporation designs, integrates and operates systems, products and services focused in the transportation, defense training and secure communications markets. Cubic Transportation Systems is a leading integrator of payment and information technology and services to create intelligent travel solutions for transportation authorities and operators. Cubic Global Defense is a leading provider of live, virtual, constructive and game-based training solutions, special operations and intelligence for the U.S. and allied forces. Cubic Mission Solutions provides networked Command, Control, Communications, Computers, Intelligence, Surveillance and Reconnaissance (C4ISR) capabilities for defense, intelligence, security and commercial missions.