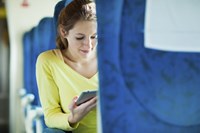 Cubic Transportation Systems (CTS), a business unit of Cubic Corporation (NYSE:CUB), today announced that Andy Taylor, strategy director for CTS, will participate in a panel discussion on Mobility as a Service (MaaS) at the 58th Transportation Research Forum Annual Conference at the University of Illinois, Chicago from April 20 – 21.
Taylor and panelists will discuss "The MaaS effect on the business of transport," homing in on what the sharing economy means, where industry providers come into play and the user-centric view for better planning and management of all modes of transportation, all through the tap of an app.
"MaaS is an international reality that is changing the way people view mobility within the urban environment; it's more than what you think," said Taylor. "A journey is no longer from point A to point B via a single mode, but rather a holistic view of our movements. MaaS taps perfectly into the on-demand economy and puts integration at the heart of transportation. This is where Cubic's expertise in payment and information solutions comes into play."
Taylor will take part in the following panel session:
The MaaS effect on the business of transport
Friday, April 21, 10:15 – 11:15 a.m. at the University of Illinois, Chicago
Panel partners: Daniel Leopold, director of program management, City Digital-UI Labs; David Katcher, general manager, Chicago, Lyft; Adam Hecktman, director of technology and civic innovation for Chicago, Microsoft.
The Transportation Research Forum is an independent organization of transportation professionals. Its purpose is to provide an impartial meeting ground for carriers, shippers, government officials, consultants, university researchers, suppliers and others seeking an exchange of information and ideas related to both passenger and freight transportation.
About Cubic Corporation
Cubic Corporation designs, integrates and operates systems, products and services focused in the transportation, defense training and secure communications markets. Cubic Transportation Systems is a leading integrator of payment and information technology and services to create intelligent travel solutions for transportation authorities and operators. Cubic Global Defense is a leading provider of live, virtual, constructive and game-based training solutions, special operations and intelligence for the U.S. and allied forces. Cubic Mission Solutions provides networked Command, Control, Communications, Computers, Intelligence, Surveillance and Reconnaissance (C4ISR) capabilities for defense, intelligence, security and commercial missions.