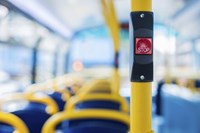 Cubic Transportation Systems (CTS), a business unit of Cubic Corporation (NYSE:CUB), today announced it was awarded a $1.1 million, five-year contract extension from the University of Maryland (UMD) to upgrade its NextBus® fleet management system.
UMD's current smart bus fleet features approximately 80 buses with extensive NextBus hardware capabilities, including GPS-based trackers, driver control units and automatic vehicle location, which informs riders of the place and time of their buses' arrivals.
Under the contract extension, Cubic will greatly enhance UMD's smart bus offering by providing university transit staff with features such as automatic passenger counting, automatic voice annunciation and "turn-by-turn" directions. The new technology will allow UMD's transit staff to track ridership in real time, through the use of automatic passenger counters, which enables the customer to gather data crucial for optimizing operations and improving services. In addition, NextBus' automatic voice annunciation system will use the buses' public address system and onboard light-emitting diodes (LED) signs to announce upcoming stops, transfer points and custom messages from UMD's transit staff. Finally, the "turn-by-turn" direction feature will act as the transit operators' personal guide to help navigate UMD's multiple shuttle routes and assist in the training process of new and prospective bus operators. The installation of this new system is expected to begin in February 2017.
"The University of Maryland's Department of Transportation Services (DOTS) is proud to extend our partnership with NextBus and we are excited about the new features our customers will receive in the near future," said Armand Scala, senior associate director, DOTS, UMD. "UMD students, faculty and staff, who regularly rely on the NextBus system for real-time bus arrival information during their daily commutes will benefit from the added convenience and increased efficiency resulting from added features, such as automated on-board stop announcements and passenger counting data."
"The University of Maryland has been a valued NextBus customer for a number of years and we admire the university's commitment to implementing leading-edge technology in its transportation system," said Min Wei, senior vice president of operations, Cubic Transportation Systems. "Cubic is looking forward to further assisting UMD in providing its students and faculty with an enjoyable, informed and intelligent transportation experience."
About Cubic Corporation
Cubic Corporation designs, integrates and operates systems, products and services focused in the transportation, defense training and secure communications markets. Cubic Transportation Systems is a leading integrator of payment and information technology and services to create intelligent travel solutions for transportation authorities and operators. Cubic Global Defense is a leading provider of live, virtual, constructive and game-based training solutions, special operations and intelligence for the U.S. and allied forces. Cubic Mission Solutions provides networked Command, Control, Communications, Computers, Intelligence, Surveillance and Reconnaissance (C4ISR) capabilities for defense, intelligence, security and commercial missions.