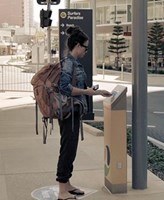 Cubic Transportation Systems (CTS), a business unit of Cubic Corporation (NYSE:CUB), today announced that its Compass Card processed more than one billion "taps" by Metro Vancouver's public transit users since its launch in 2015. Compass Card is the contactless smart card payment system designed and integrated by Cubic for Vancouver's transportation authority, TransLink. The system processes more than 43 million card "taps" each month and over 1.5 million every weekday, with 95 percent of all fares now being paid using a Compass product.
"We are excited to achieve this milestone with TransLink in exceeding one billion taps. This not only demonstrates the success and reliability of our customer's Compass Card payment system, but also the seamless and intermodal payment experience it provides," said Matt Cole, president of Cubic Transportation Systems.
"This milestone of one billion taps demonstrates to me, the ease with which our customers are using the Compass system and the way it's helping to transform the travel experience for our customers," said Kevin Desmond, chief executive officer of TransLink. "They enjoy the day-to-day benefits – the ease of tapping, the ability to easily manage their card – and I'm pleased to say Compass data is helping us design a better system for our customers today and in the years ahead."
The Compass Card links all of TransLink's services and fare products in Metro Vancouver to a single payment system, including buses, West Coast Express, SkyTrain and SeaBus. The Compass system replaces more than 150 different tickets and passes with one easy-to-use, reloadable fare card. Customers have the option to register their Compass Cards and manage their accounts online, giving them the added convenience of loading products online, signing up for AutoLoad on their card balance, as well as avoiding the hassle of waiting in ticket vending machine lines.
In addition, the Compass system is supported by Cubic's services and operations, which provide the system infrastructure, back office, call center, card fulfillment and distribution as well as field maintenance services for TransLink.
About Cubic
Cubic Corporation designs, integrates and operates systems, products and services focused in the transportation, defense training and secure communications markets. Cubic Transportation Systems is a leading integrator of payment and information technology and services to create intelligent travel solutions for transportation authorities and operators. Cubic Global Defense is a leading provider of live, virtual, constructive and game-based training solutions, special operations and intelligence for the U.S. and allied forces. Cubic Mission Solutions provides networked Command, Control, Communications, Computers, Intelligence, Surveillance and Reconnaissance (C4ISR) capabilities for defense, intelligence, security and commercial missions.