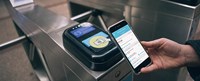 Cubic Transportation Systems (CTS), a business unit of Cubic Corporation (NYSE:CUB), today announced it will demonstrate its new "virtual ticket office" NextAgentTM at the LTA-UITP Singapore International Transport Congress and Exhibition (SITCE) to be held October 19 – 21 at Suntec Singapore Convention and Exhibition Centre in Singapore.
Cubic's NextAgent enables passengers to bypass the traditional ticket office and use a video link to see and speak with an expert located in a call center. The customer service representative can answer questions, provide tickets and maps, as well as give advice in a range of languages. The integrated camera can also be used for document validation, as a help point and to display information such as maps and timetables.
In addition to NextAgent, Cubic will feature other innovative technologies at its Booth #F23. This includes Cubic's new mobile payment technologies, specifically its award-winning mobile app used in Chicago. The technology allows commuters to pay for travel directly using their mobile phone or contactless bankcard, as well as create a single mobility account to integrate information such as trip planning, payment and account management. Cubic will also feature demonstrations of Check In/Be Out (CIBO), Cubic's latest innovation in hands-free and gateless ticketing, and the Urbanomics Mobility Project.
Leveraging Cubic's transport analytics capabilities and Mastercard's insights into commerce activity, the Urbanomics Mobility Project illustrates the potential for analyzing and planning smart cities, growing economies and rationalizing the necessary transport infrastructure and services to support increasingly denser urban populations.
"Cities across Asia are being challenged by rapid population growth and transport infrastructure struggles to keep up. The integration of transport payments, with aggregated payments data, is a useful tool to visualize choices to people living in any given community," said Bob Deiter, vice president of strategic opportunities for CTS-Asia Pacific. "Cooperation and collaboration between private business and across government is vital to enable more data to be accessible. Analytics will allow urban planners to incentivize travel to relieve congestion, while giving customers the information they need to make intelligent travel choices in growing urban centers."
In addition to the exhibition, Cubic will participate in the following forum:
Transport Forum: Public Transport Made Easier for All
Friday, October 21, 9:30 a.m. – 11:00 a.m.
Bob Deiter, vice president of strategic opportunities, CTS-Asia Pacific, to present on advancing the evolution of traffic management systems. The session will include presentations from Markus Portner (Portner Engineering LLC), Dirk Weisser (INIT GmbH), Courtney Sung (Remix Software Inc), and Wei Ping Ong (Xerox Services).
Follow Cubic Transportation Systems on Twitter at @CubicTS and join the conversation on social media with #NextCity.
About Cubic Corporation
Cubic Corporation designs, integrates and operates systems, products and services focused in the transportation, defense training and secure communications markets. Cubic Transportation Systems is a leading integrator of payment and information technology and services to create intelligent travel solutions for transportation authorities and operators. Cubic Global Defense is a leading provider of live, virtual, constructive and game-based training solutions, special operations and intelligence for the U.S. and allied forces. Cubic Mission Solutions provides networked Command, Control, Communications, Computers, Intelligence, Surveillance and Reconnaissance (C4ISR) capabilities for defense, intelligence, security and commercial missions. For more information about Cubic, please visit the company's website at www.cubic.com or on Twitter @CubicCorp.