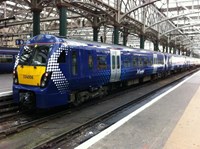 A record-equalling ninety percent of rail customers said they are very satisfied or satisfied with the service provided by ScotRail, according to the latest National Rail Passenger Survey.
The figure, released by Transport Focus, represents a three percent increase on similar figures compared to Spring 2015. The results place ScotRail seven points above the national average of eighty three percent.
This is the first survey to contain data collected after Abellio took over the ScotRail franchise on 1 April 2015.
Key points from the report show increased satisfaction in the following areas:
Helpfulness of both station and on train staff rises by four points and six points respectively
Satisfaction with ticket buying facilities up four points
Overall satisfaction with stations now improved by four points
Phil Verster, managing director of the ScotRail Alliance said:
"When people think about the railway, it's often about the trains and the track. As important as these are, the reality is that the railway is only as good as the people who make it work. These figures show that we are incredibly fortunate here in Scotland to have thousands of people who work on our trains, in our stations and in our depots who are so obviously dedicated to delivering a good service for our customers.
"We are absolutely determined to give the people of Scotland a railway that they can be proud of. To do this, we cannot sit back and relax for a moment. So, while this rise in customer satisfaction is great news it only drives us to work even harder.
"Over the next couple of years we are delivering ScotRail's biggest ever train improvement programme and new faster, longer, greener trains will be introduced in 2017. We will be refurbishing huge swathes of our current fleet and introducing great benefits like enhanced wifi and at-seat power sockets. This means more seats, shorter journey times and a better experience for our customers.
"That is what our customers want. That is what we will deliver for them."
Dominic Booth, managing director of Abellio UK, said:
"The entire team in ScotRail should be very proud of this achievement, especially in the first year of the franchise. It's never easy to get these kind of results at the best of times, but to get them in the transition year when the franchise hands over to the new operator is an excellent performance.
"The best judge of what we do and therefore the most valuable is what our customers say and these results are therefore a testimony to the hard work of all our staff and I say well done to them all."
About ScotRail
We're giving you quicker, more comfortable and better value journeys from door to door.
We're delighted that the new ScotRail franchise is now being operated by Abellio. When this was announced by Transport Scotland they told the nation to expect a transformation in rail travel across the country – and that's exactly what we promise to deliver.
We've put together a clear plan to make sure your journeys are fast, reliable and easy – not just when travelling on the train, but throughout your entire trip from door to door. In short, we have re-thought the ScotRail service to make sure it reflects the way you want to live. You've told us about travelling to work, on business, visiting friends and family and enjoying the great outdoors, so whatever journey you're taking, we can make it better for you.