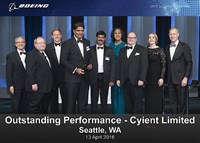 Cyient was recognized with the 2015 Supplier of the Year Award by Boeing for the third time, on April 13, 2016 in a ceremony held at the Washington State Convention Center in Seattle. A global leader in engineering, design-led manufacturing, and aftermarket solutions, Cyient has also been winning the Boeing Performace Excellence Award for six consecutive years since 2010—a testimony of Cyient's consistent commitment to adding value to its business partners. This year, Cyient was recognized in the "Outstanding Performance" category.
Commenting on the achievement, Krishna Bodanapu, Managing Director and CEO, Cyient said, "It is an honor to be recognized consistently by Boeing for the work that we have been doing with them over the past several years. We believe in continuously raising the performance bar to achieve unprecedented outcomes for our clients. The 2015 Supplier of the Year Award acknowledges Cyient's contribution to cost avoidance and bringing in more efficiencies for Boeing."Cyient is a global leader in aerospace and defense lifecycle solutions, with a portfolio ranging from aero engines and aero systems to avionics and aero structures.
About Cyient
Cyient is a global provider of engineering, manufacturing, data analytics, networks and operations solutions. We collaborate with our clients to achieve more and shape a better tomorrow.
With decades of experience, Cyient is well positioned to solve problems. Our solutions include product development and life-cycle support, process and network engineering, and data transformation and analytics. We provide expertise in the aerospace, consumer, energy, medical, oil and gas, mining, heavy equipment, semiconductor, rail transportation, telecom and utilities industries.
Strong capabilities combined with a global network of more than 13,100 associates across 38 global locations enable us to deliver measurable and substantial benefits to major organizations worldwide.
For more information about Cyient, visit www.cyient.com.