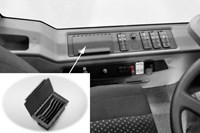 Daimler Buses is exploiting the benefits of 3D printing to meet customers' special requirements and produce small batches and replacement parts for the Mercedes-Benz and Setra brands. As a technology leader in the bus and coach sector, Daimler Buses is making use of the advantages of this cutting-edge digital component and production technology. At the current point of time it is already possible to print complex parts located in the bus interior in a single step, which formerly consisted of several and in some cases even moving components. In this field Daimler Buses is drawing on over 25 years of experience with 3D printing processes in truck and prototype construction.
3D component production enables perfect solutions in response to the enquiries which are received on a daily basis from customers who are seeking special equipment features or waiting for a corresponding replacement part.
"In the medium term, we see digital production technologies as harbouring vast potential to enable us to address market and customer requirements in a flexible manner while at the same time minimising investment risks," says Hartmut Schick, Head of Daimler Buses.
3D printing provides the bus division within the Daimler Group with a means of responding swiftly, flexibly, economically and ecologically to individual customer requests and requirements for replacement parts. In top quality and with low production costs: the 3D parts correspond to the injection moulding standards stipulated by Daimler AG, while avoiding the costs relating to tool production, component storage and the disposal of surplus materials.
The potential of 3D printing is manifest in the area of special customer requests and replacement parts at Daimler Buses, where some 780 components have been printed for customer vehicles to date. In addition, more than 150 different replacement parts for buses are currently being scrutinised and validated with regard to their feasibility as 3D printed parts.
3D printing process revolutionising the production of bus parts
Daimler Buses has perfected the production of 3D parts which are available at short notice in the special and replacement parts segment. The "printed" special and replacement parts consist of high-quality polyamide plastic components. They are created with state-of-the-art 3D printers based on the Selective Laser Sintering (SLS) printing process. In this generative layer-building process the three-dimensional structures of the preprogrammed 3D part are produced layer by layer from the powder-form polyamide materials by means of a laser.
3D printing allows any desired geometry, even for complex bus components. Special parts and low-volume parts can be modified at will, adapted to customers' special requirements and produced in an attractive design. This proves particularly economical in small series involving batches sizes from 1 to 50 units. The entire process, from the initial idea through design, costing and production to delivery, takes only a matter of days.
The customer can subsequently re-order any 3D part using a specific part number under which it is specified in the order code lists and the replacement parts catalogues of Daimler Buses. This guarantees a swift supply of replacement parts even after several decades – and worldwide.
In most cases, 3D-printed parts also prove more favourable than their conventionally produced counterparts in terms of weight, as the design engineer is no longer restricted by the constraints previously imposed by the production processes and can adapt the components ideally to the given functions, for example.
Custom-tailored 3D parts in buses and touring coaches ensure variety of parts and individuality
Numerous components are already adapted to customers' special wishes at Daimler Buses and produced by way of the 3D printing process "at the push of a button". Drawers, cover mouldings, retaining strips, adapter and surround rings represent just some examples of the economical production of special and replacement parts in top quality which is made possible by the 3D printing method.
From now on, 3D printing will render it possible to print complex, moving parts which have consisted to date of several components in a single step and without requiring extensive assembly operations, which will also result not least of all in markedly reduced costs. The multi-piece stowage compartment for banknotes which Mercedes-Benz integrates on request in the side panelling on the left-hand side of the driver's area in place of the cup holder is just one of many examples here. This complex component comprises a number of individual parts: the housing, various assembly clips, hinges, lid, handle and compartments. The conventional production process would entail manufacturing the individual parts using various sophisticated thermoforming and injection moulding tools, followed by joining of the individual parts. 3D printing is a particularly interesting proposition for customers who attach great importance to special shaping for colour-coordinated components in the interiors of their touring coaches.
3D printing cuts costs and raises environmental acceptability
In addition to avoiding the costs of manufacturing special production tools, additional savings arise in particular for small series and special parts as a result of the fact that it is no longer necessary to produce all-time stocks. The 3D technology avoids bottlenecks and surplus production. This ensures that special parts are produced and replacement parts are supplied in precisely the required quantities. As the parts can be delivered quickly and without requiring large-scale stockpiling, no stocks require to be maintained.
Costs are saved while at the same time conserving resources and protecting the environment: there is no surplus production. Fast delivery is a further crucial aspect. Here, 3D printing offers an excellent means of quickly and efficiently meeting customers' individual requirements.
"The 3D printing process allows us to install local printers at the production plants operated by Daimler Buses worldwide. It also enables us to respond in a flexible manner at local level to customers' special wishes and replacement part needs. In this way, the availability of parts can be speeded up considerably while avoiding long transport distances as well as high transport costs and customs charges," explains Hartmut Schick.
3D printing technology is fully integrated into the development process and series production within the commercial vehicles segment at Daimler. All the innovations pertaining to the 3D printing process for Daimler Trucks & Buses have been introduced and undergone crucial development in an extremely short period of time by way of a Group-wide research and advance development project in which the area of business innovation also plays an important role.
About Daimler
Daimler AG is one of the most successful automotive manufacturers in the world. With its Mercedes-Benz Cars, Daimler Trucks, Mercedes-Benz Vans, Daimler Buses and Daimler Financial Services divisions, the vehicle manufacturer is one of the largest producers of premium cars and the largest globally operative manufacturer of commercial vehicles. Daimler Financial Services offers financing, leasing, fleet management, insurance services, investments, credit cards and innovative mobility services.
Company founders Gottlieb Daimler and Carl Benz wrote history with the invention of the motorcar in 1886. As an automotive pioneer, Daimler continues to shape the future of mobility today: the company applies innovative and green technologies to produce safe and superior vehicles which fascinate and delight customers. Daimler invests continually in the development of alternative powertrains – from hybrid vehicles to all-electric vehicles with battery or fuel cell – with the goal of making emission-free driving possible in the long term. Furthermore, the company follows a consistent path towards accident-free driving and intelligent connectivity all the way to autonomous driving. Daimler willingly accepts the challenge of meeting its responsibility towards society and the environment.
Daimler sells its vehicles and services in nearly all the countries of the world and has production facilities in Europe, North and South America, Asia and Africa. In addition to Mercedes-Benz, the world's most valuable automotive brand, plus Mercedes-AMG, Mercedes-Maybach and Mercedes me, Daimler's brand portfolio includes smart, EQ, Freightliner, Western Star, BharatBenz, FUSO, Setra, Thomas Built Buses and the Daimler Financial Services brands: Mercedes-Benz Bank, Mercedes-Benz Financial Services, Daimler Truck Financial, moovel, car2go and mytaxi. The company is listed on the Frankfurt and Stuttgart stock exchanges (stock exchange symbol DAI). In 2016, with a total of 282,488 employees the Group sold around 3 million vehicles. Revenue amounted to 153.3 billion €, EBIT amounted to 12.9 billion €.