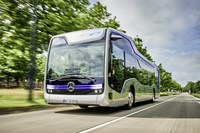 Mercedes-Benz and Setra with current vehicles at the FIAA 2017.
Experts of Omniplus and BusStore informs about the newest offers and services at the fair trade.
Fleetboard offers digital solutions for fleet operators.
Daimler Buses will be appearing once again at the FIAA International Bus and Coach Trade Fair in Madrid from 23 to 26 May. Under its Mercedes-Benz and Setra brands, they are presenting the latest trends in the touring coach and city bus segment as well as services and replacement parts from its Omniplus brand. BusStore, the young pre-owned bus brand of Daimler Buses, has established itself as the number one in the industry in Europe. BusStore is an independent brand under which Daimler Buses pools its European pre-owned bus business. With the Fleetboard brand, Daimler Buses offers digital solutions for maximum transparency in bus operators' fleets. The Fleetboard services have been developed especially for bus-specific fleet management and are available throughout Europe.
On stand 9C07 (hall 9) covering 1426 m2, visitors will have an opportunity to acquaint themselves with the latest technological developments in the areas of safety, economy, environmental protection and comfort for passengers and drivers.
This year, Mercedes-Benz is introducing its visitors to the new era of urban mobility, with partially autonomous driving and connectivity - both of which have already become reality with the Future Bus featuring the CityPilot. This technology was presented last year in real-life conditions on Europe's longest BRT route in Amsterdam.
The popular Citaro NGT city bus with gaseous-fuel drive will also be on show. Apart from reducing CO2 emissions, the Citaro NGT is also more economical, more efficient, quieter, safer and boasts improved performance. It runs on up to 20 percent less fuel than its predecessor.
The line-up would not be complete without the well-known Mercedes-Benz OC 500 RF 2453 chassis with three axles and high floor. This is fitted with the OM 470 engine and will be making its first appearance at the FIAA in the new 335 kW (455 hp) power rating.
Setra will be presenting a number of items from its comprehensive product range, from the exclusive and luxurious touring coaches belonging to the TopClass product family designed for unique and unforgettable travels to the diverse ComfortClass line, which combines ground-breaking design, supreme comfort and innovation in a single product.
From its MultiClass product family, Setra will be presenting its new S 418 LE business, which boasts outstanding cost efficiency. This vehicle's scaled-down scope of equipment makes it ideal for economical deployment on intercity and rural services as well as for use as a school bus or shuttle bus.
Omniplus, the Mercedes-Benz and Setra brand for service and replacement parts, will be presenting the new 24h service with telediagnosis. At this year's FIAA there will be a special offer for tailor-made service contracts for preventive and anticipatory vehicle repairs according to the most stringent quality standards.The experts from Omniplus will be on hand to provide information about the largest Europe-wide range of genuine parts and reconditioned replacement parts and to explain their tight-knit service network geared to touring coaches and regular-service buses.
BusStore will be on show at the FIAA with its experts for pre-ownedvehicles, who will be able to advise interested visitors about the company's comprehensive stock of pre-owned vehicles all over Europe and to find the vehicle best suited to their needs.
At private or public-sector companies, in travel operations or scheduled services – Fleetboard serves to identify and exploit savings potential in bus fleets. Fleetboard will be presenting its comprehensive digital solutions in the field of driver and vehicle management. Their services include numerous functions to help optimise driving style and procedures. In this way, companies can reduce vehicle wear and fuel consumption while increasing the quality of their service. The telematics system is available ex-factory for complete Mercedes-Benz and Setra buses and can be retrofitted in buses and coaches from other manufacturers.
Mercedes-Benz Financial Services advises fleet operators on the mode of financing best suited to their needs.
Visitors will be able to view many other renowned vehicles from Mercedes-Benz and Setra at the stand and enjoy test drives on the outside course behind hall 9.
About Daimler
Daimler AG is one of the most successful automotive manufacturers in the world. With its Mercedes-Benz Cars, Daimler Trucks, Mercedes-Benz Vans, Daimler Buses and Daimler Financial Services divisions, the vehicle manufacturer is one of the largest producers of premium cars and the largest globally operative manufacturer of commercial vehicles. Daimler Financial Services offers financing, leasing, fleet management, insurance services, investments, credit cards and innovative mobility services.
Company founders Gottlieb Daimler and Carl Benz wrote history with the invention of the motorcar in 1886. As an automotive pioneer, Daimler continues to shape the future of mobility today: the company applies innovative and green technologies to produce safe and superior vehicles which fascinate and delight customers. Daimler invests continually in the development of alternative powertrains – from hybrid vehicles to all-electric vehicles with battery or fuel cell – with the goal of making emission-free driving possible in the long term. Furthermore, the company follows a consistent path towards accident-free driving and intelligent connectivity all the way to autonomous driving. Daimler willingly accepts the challenge of meeting its responsibility towards society and the environment.
Daimler sells its vehicles and services in nearly all the countries of the world and has production facilities in Europe, North and South America, Asia and Africa. In addition to Mercedes-Benz, the world's most valuable automotive brand, plus Mercedes-AMG, Mercedes-Maybach and Mercedes me, Daimler's brand portfolio includes smart, EQ, Freightliner, Western Star, BharatBenz, FUSO, Setra, Thomas Built Buses and the Daimler Financial Services brands: Mercedes-Benz Bank, Mercedes-Benz Financial Services, Daimler Truck Financial, moovel, car2go and mytaxi. The company is listed on the Frankfurt and Stuttgart stock exchanges (stock exchange symbol DAI). In 2016, with a total of 282,488 employees the Group sold around 3 million vehicles. Revenue amounted to 153.3 billion €, EBIT amounted to 12.9 billion €.