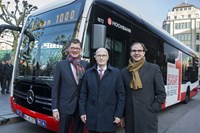 In September the eCitaro celebrated its prominent world premiere at the IAA and now its already bringing a breath of fresh air to Hamburg: today, Mercedes‑B enz delivered the first series production model of an urban bus with a fully-electric drive system to the public transport company Hochbahn AG in Hamburg. It is part of an order for 20 eCitaro buses.
Till Oberwörder: "The Mercedes‑Benz eCitaro is advancing electromobility"
Till Oberwörder, Head of Daimler Buses, handed over the first Mercedes-Benz eCitaro to Henrik Falk the Chairman of the Board at Hamburger Hochbahn AG in the presence of Dr. Peter Tschentscher, Mayor of Hamburg.
Till Oberwörder: "Hamburger Hochbahn AG is one of the recognised pioneers for alternative drive systems in local public transport. In producing the new eCitaro, we have developed a well-thought-out and sophisticated urban bus concept which will make a decisive contribution towards promoting electromobility in towns and cities. We are delighted to be able to deliver the very first series production vehicle today."
The eCitaro for Hamburger Hochbahn AG is the first of a large order for 20 eCitaro buses - the biggest ever single order for buses driven by a fully-electric drive system from a German transport provider. Prior to this the Hamburger Hochbahn AG looked at several different concepts for urban buses with electric drive systems over a number of years. Starting in 2020 Hamburger Hochbahn AG intends to purchase nothing but emission-free buses. It operates around 1000 buses on 111 lines.
The Mercedes‑Benz eCitaro is the first fully-electric urban bus that has been developed and manufactured in Germany. Quiet and emission-free on the road, it is an important building block on the way to reducing emissions, particularly in cities and other built-up areas. It impresses with innovative technology, particularly with its unique thermo-management which is essential for electric buses. It reduces energy consumption and in turn increases range. For example, an energy-saving heat pump heats the interior and heat-radiating components are connected to one another.
About Daimler Buses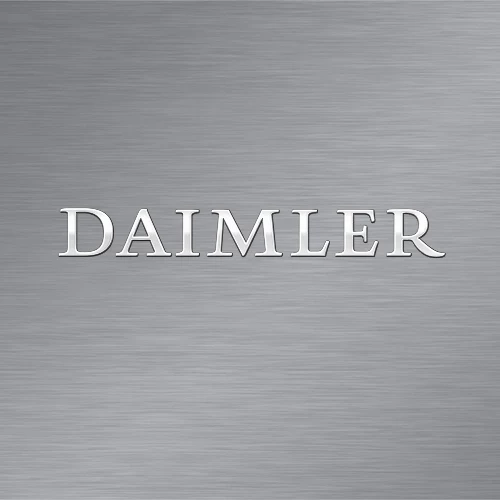 As the leading bus manufacturer in its core markets of Western Europe and Latin America, Daimler Buses focuses on supplying innovative and environmentally responsible products that meet its customers' business requirements. Higher sales of complete buses and progress made with additional efficiency measures led to a significant increase in earnings in 2014. A decline in demand for bus chassis in Latin America due to difficult market conditions in the region had a negative effect on unit sales, especially in the second half of the year. During the year under review, we once again improved our product portfolio with some important innovations.