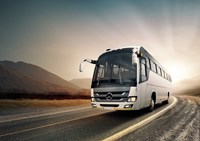 Daimler is bringing two new bus models to the important African market of Kenya. This is Daimler Buses' response to the ever-growing demand in East and Central Africa for comfortable and safe buses for passenger transportation. Both bus models are built in Nairobi in cooperation with local sales partner DT Dobie Kenya for the domestic market and its challenging road conditions. The compact Mercedes Benz 917 city bus is ideal for use as urban, school or shuttle bus and can accommodate up to 37 people. The more spacious Mercedes Benz 1730 is designed for long-distance travel and has room for approximately 60 passengers. With a total market of up to 2.500 new vehicles per year, Kenya is one of the most important sales markets for buses in Central and East Africa. Daimler has been active in Kenya since the 1950s.
Regarding the launch of the two new bus models Ulrich Bastert, Head of Marketing, Sales & Customer Services at Daimler Buses, says: "I am very proud to present two new Mercedes-Benz buses for Kenya – together with our partner DT Dobie. With these products, our reliable service and DT Dobies excellent customer care we will convince our customers."
Global positioning pays off
When developing new bus models, Daimler Buses benefits from its global operations. Presently truck chassis are used in the vast majority of buses in Kenya. Due to the comparatively hard suspensions and high entrance steps, however, passenger comfort is low. By contrast, the two new bus models are built on the proven OF 917 (permissible gross vehicle weight of 10.4 tonnes) and OF 1730 (perm. GVW 18 t) bus chassis. These come from the Daimler plants in Chennai (India) and São Bernardo do Campo (Brazil). Both chassis have already proven themselves in practice on tough routes in India and Brazil. The chassis will be assembled locally and equipped with a body by certified body manufacturers in Kenya in accordance with Daimler standards. Both bus models set new benchmarks for markets in East Africa in terms of comfort, safety and reliability. For example, Daimler Buses is the only manufacturer in the Kenyan market to install ABS braking systems and precision steering systems.
Daimler regional center for commercial vehicles in Kenya
This step by Daimler Buses in Kenya demonstrates that a consistent focus on local customers pays off. In February 2016 Daimler AG opened its regional center for East, Central and West Africa in Nairobi, Kenya. Since then the center has been responsible for the entire commercial vehicle portfolio in East, Central and West Africa, ranging from light to heavy-duty trucks and from minibuses to large tourist coaches. The sales and marketing activities cover trucks of the Mercedes-Benz and FUSO brands as well as Mercedes-Benz buses.
In addition to Kenya, the region of East, Central and West Africa covers another 40 markets including Nigeria, Tanzania, Cameroon and Ghana. It encompasses a total of 770 million inhabitants and offers high growth potential in the long term: 68 percent of the population is under 25 years old, a higher proportion than anywhere else in the world. Over the last ten years, the gross domestic product (GDP) has grown by an average of approximately five percent per year. Kenya itself has the fourth highest nominal GDP on the African continent. Foreign direct investment is further evidence of the dynamic development in this resource-rich region, having increased sixfold since the year 2000. In line with growth in the economy as a whole, the transport sector and the associated demand for commercial vehicles are expected to perform positively.
About Daimler
Daimler AG is one of the most successful automotive manufacturers in the world. With its Mercedes-Benz Cars, Daimler Trucks, Mercedes-Benz Vans, Daimler Buses and Daimler Financial Services divisions, the vehicle manufacturer is one of the largest producers of premium cars and the largest globally operative manufacturer of commercial vehicles. Daimler Financial Services offers financing, leasing, fleet management, insurance services, investments, credit cards and innovative mobility services.
Company founders Gottlieb Daimler and Carl Benz wrote history with the invention of the motorcar in 1886. As an automotive pioneer, Daimler continues to shape the future of mobility today: the company applies innovative and green technologies to produce safe and superior vehicles which fascinate and delight customers. Daimler invests continually in the development of alternative powertrains – from hybrid vehicles to all-electric vehicles with battery or fuel cell – with the goal of making emission-free driving possible in the long term. Furthermore, the company follows a consistent path towards accident-free driving and intelligent connectivity all the way to autonomous driving. Daimler willingly accepts the challenge of meeting its responsibility towards society and the environment.
Daimler sells its vehicles and services in nearly all the countries of the world and has production facilities in Europe, North and South America, Asia and Africa. In addition to Mercedes-Benz, the world's most valuable automotive brand, plus Mercedes-AMG, Mercedes-Maybach and Mercedes me, Daimler's brand portfolio includes smart, EQ, Freightliner, Western Star, BharatBenz, FUSO, Setra, Thomas Built Buses and the Daimler Financial Services brands: Mercedes-Benz Bank, Mercedes-Benz Financial Services, Daimler Truck Financial, moovel, car2go and mytaxi. The company is listed on the Frankfurt and Stuttgart stock exchanges (stock exchange symbol DAI). In 2016, with a total of 282,488 employees the Group sold around 3 million vehicles. Revenue amounted to 153.3 billion €, EBIT amounted to 12.9 billion €.