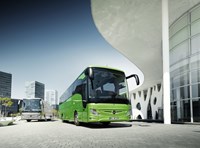 The new Mercedes-Benz Tourismo RHD is celebrating its world premiere in Brussels today. After nearly 20 years, the high-decker touring coach (RHD) is a completely new version set to continue the long success story. The preceding model is truly a bestseller, with around 26 000 units sold since its introduction. More than 2000 units were handed over to customers in 2016 alone. This represents a market share of around 20 percent in Europe, making it Europe's most successful touring coach. The prospects for the succeeding model are also more than promising, as the new Tourismo will set standards with respect to fuel efficiency, comfort and safety in the constantly growing touring and inter-city bus market.
"The Mercedes-Benz Tourismo is the most successful European touring coach of all time, and a key driver for the success of Daimler Buses. In order to safeguard our market leadership in this segment for the future, we have invested 400 million euros in the development and production of completely new touring coach generations. This makes our bestseller even more economical, comfortable and safe," says Hartmut Schick, Head of Daimler Buses.
All-rounder for the long-distance bus sector
With its four model variants and a wide variety of powertrains and equipment, the new Mercedes-Benz Tourismo covers the wide-ranging needs of customers in the entire touring coach segment.
Hartmut Schick: "The new Mercedes-Benz Tourismo is a genuine all-rounder. Whether as a shuttle-bus, charter or long-distance bus, it offers our customers an even wider range of applications than before. This particularly pays off for the constantly growing long-distance buses services in Europe. It is especially here that bus operators increasingly rely on great operational variety and flexibility."
Daimler Buses holds a market share of over 40 percent in the constantly growing European long-distance bus services. In Germany, no less than one in two long-distance buses bear the Mercedes-Benz or Setra logo. Like its predecessor the new Tourismo RHD will be manufactured at the Turkish plant in Hoşdere near Istanbul.
Cost effectiveness: minimal costs, maximum performance
The new Tourismo particularly shows its strengths when it comes to fuel efficiency, as a minimised Total Cost of Ownership (TCO) is a key buying argument in the bus sector. The new Tourismo RHD meets this criterion, thanks to a fuel consumption level that has been reduced even further: fuel consumption has been decreased by around 4.5 percent, mainly due to optimised aerodynamics and the completely redesigned, lighter body. The saving amounts to as much as seven percent when the consumption advantage of the OM 470 engine generation with efficiency package, which was introduced in summer 2016, is included. With new optional equipment items such as Predictive Powertrain Control (PPC) or Eco Driver Feedback (EDF), fuel consumption and thus emissions can be reduced still further. An extensive standard equipment package and optimised service schedules also contribute to maximum cost-effectiveness for bus operators.
Safety: The safest touring coach in its category
The Mercedes-Benz Tourismo RHD is the safest vehicle in its class. Emergency Brake Assist, Stop Assist for stop-and-go traffic, Attention Assist – just three examples of the wealth of highly developed safety engineering in the new Tourismo. Customers are able to configure the extensive safety features to suit the intended application. The Mercedes-Benz Tourismo RHD also sets new standards in this segment when it comes to passive safety: in the event of an accident despite all safety measures, the unique Front Collision Guard (FCG) will protect the driver and co-driver in the event of a collision.
Functionality: four models, two cockpits, a high-decker made to measure
A touring coach is a capital investment for the operator, and a workplace for its driver. They both have extremely high expectations in terms of functionality. The new Tourismo RHD lives up to these expectations with its modular system. With four models in three different lengths, the high-decker model covers virtually all requirements. For the first time, all models are available with both left and right-hand drive. Operators are also able to choose between two cockpit variants. Both versions are equipped with a multifunction steering wheel and new instrument cluster with a TFT colour screen, but are different in form and function depending on the user. The Comfort Plus cockpit, for instance, is fitted with the Coach Multimedia System. It has clearly laid-out controls for the entire entertainment electronics, the navigation system included as standard and a Bluetooth module for telephone operation.
Comfort: light interior, new seating, individual appointments
The new Tourismo RHD welcomes passengers with a convenient entryway and a bright interior. With a range of different patterns for the flooring, numerous fabric options for seat covers, side walls, curtains, the underside of the luggage carrier shelves and the central ceiling panel, operators can configure the new Tourismo RHD individually. A kitchen in the interior design and a new air conditioning system additionally enhance travelling comfort for passengers. Using the optional media router for on-board WIFI, passengers will also be able to access the internet and its websites conveniently.
About Daimler Buses
The Daimler Buses division with its brands Mercedes‑Benz and Setra is the undisputed industry leader in its core markets in the segment for buses above 8 metric tons. The division's product range comprises city and intercity buses, coaches and bus chassis.