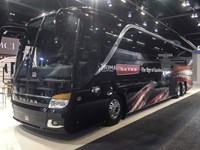 Bus brand presents S 417 TC at the UMA Motorcoach Expo in St. Louis.
Revised US variant of the TopClass with new design features.
Setra coach is on display at the stand of sales partner MCI.
The Setra brand is presenting an exclusively equipped version of the model S 417 TC coach at the United Motorcoach Association (UMA) Expo bus trade fair in St. Louis, Missouri (26 February to 2 March).
The facelifted coach is characterised by features such as the Setra brand logo in chrome, new-look front fog lamps and also a revised bumper. Produced in Neu-Ulm, the three-axle vehicle, measuring 13.7 m in length, boasts space for 56 passengers who are accommodated on Setra Voyage Ambassador composition/fabric seats, all fitted with footrests and three-point seat belts. The state-of-the-art coach, complete with back-friendly driver's seat, hands-free system, LED aisle lighting and fire detection system in the engine compartment, complies with all required US active-safety standards, while its environmentally compatible Mercedes-Benz OM 471 LA engine (336 kW) meets the criteria of US emissions standard EPA 10 MY16 for nitrogen oxides and particulates.
Setra enjoys five-year partnership with Motor Coach Industries International Inc. (MCI)
The US version of the European Setra TopClass is on show in Missouri at the stand of the North American sales and service partner Motor Coach Industries International Inc. (MCI). The Canadian company is one of the leading touring-coach manufacturers in the USA and Canada. Based in Illinois, the partner of Daimler Buses acquired the exclusive rights for the sale and service of Setra buses in the United States and Canada five years ago.
The Setra coaches are still developed and built in Germany. Between the market launch of the S 417 TC some 14 years ago and the end of 2016, Setra has sold more than 1250 units in the USA, Canada and Mexico.
About Daimler Buses
The Daimler Buses division with its brands Mercedes‑Benz and Setra is the undisputed industry leader in its core markets in the segment for buses above 8 metric tons. The division's product range comprises city and intercity buses, coaches and bus chassis.