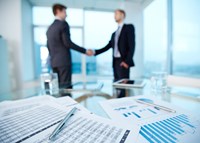 Deutsche Bahn and Plug and Play launch partnership
Access to worldwide startup, mentor and investor network
Startups invited to shape the digital future of mobility
Deutsche Bahn and the startup platform and investor Plug and Play are building a new bridge that will link Germany's startup capital Berlin with Silicon Valley and other leading technology and innovation centers worldwide. The two companies have agreed on direct collaboration. Together, the two partners will select startups to receive professional and financial support. For DB, the partnership means the expansion of its existing startup promotion activities and the beginning of providing initial funding for startups on an international scale.
"By cooperating with Plug and Play, we can draw the attention of startups far beyond the German borders to the Deutsche Bahn Group,", stated Manuel Gerres, Head of New Digital Business Models and CEO of Deutsche Bahn Digital Ventures GmbH. Gerres is sure that this itself will deliver benefits for DB customers: "The great advantage of this partnership is that together, we can reach a large number of startups on both sides of the Atlantic who are working with enormous drive and passion on the development of data-based mobility solutions and who are determined to create new products for the travel chain as soon as possible."
A growing number of international startups are investigating developments such as self-drive vehicles, networked travel and multimodal customer platforms. These are the same targets that DB is pursuing with its digitalization campaign. "Deutsche Bahn is highly attractive to technology startups for the simple reason that it operates one of the largest, most complex and highly developed transport systems anywhere in the world," comments Saeed Amidi, Founder and CEO of Plug and Play, adding: "With DB as partner, we can create the ideal conditions for startups all over the world, for local enterprises and venture capitalists, all of whom see the enormous potential of designing mobility in this digital day and age."
The new Innovation Platform bundles the attractiveness of both companies: startups have access not only to the variety of data and the network of Deutsche Bahn, but also to the expertise of Plug and Play and to one of the largest global startup and investor networks. The two partners plan to create shared jobs in Berlin and Sunnyvale, to run workshops, coaching programs and attend startup events in Silicon Valley. DB will additionally take on the role of anchor partner in the "Plug and Play Mobility Program" in the USA. The sectoral platform, which includes members such as Daimler, the Parisian underground operator RATP and Michelin, will enable DB to contact startups throughout the world that are tackling mobility issues.
The first joint sponsorship activities by DB and Plug and Play will kick off in the first half of 2017. The content focus and details of participating conditions will be announced in due course.
About Digitalization and startup sponsorship at Deutsche Bahn
Over the next two years (2017/2018), Deutsche Bahn will invest a total of around one billion euros in digitalization projects throughout the company. Digital technologies are being used to achieve noticeable progress in three areas: at the customer interface (products), in operational and administrative processes and to develop new, data-based business models.
Since the beginning of 2015, these activities have been backed by the company's own startup sponsorship program (DB Accelerator) at the DB mindbox in Berlin. After four rounds of sponsoring which have focused on quality improvements in DB's core business of rail operations, the company is already in contact with more than 400 startups. Specific products are currently being rolled out or developed ready for market or series production in cooperation with 20 startups.
Together with Plug and Play, DB is now planning to launch an additional startup sponsorship program geared to identifying mobility solutions and products outside its core business sector. The objective is to improve networking between the different transportation modes, which will ultimately also strengthen the position of rail. The company is also investigating new customer services which go beyond the actual transport itself in order to offer further products on all aspects of travel.
The evaluation of startups, funding and investments is the responsibility of Deutsche Bahn Digital Ventures GmbH. The company will provide additional venture capital amounting to around 50 million euros over the next two years.
About Plug and Play
Plug and Play is an innovation platform for cooperating with startups and has already invested in more than 400 startups since it was founded in 2006, paving the way for today's global players such as Paypal, Dropbox and Soundhound to grow and succeed. The world's largest technology platform meanwhile has expanded to 10 different countries and 20 cities on their way to becoming successful market players. It has created a unique startup ecosystem comprising more than 6,000 startups and more than 100 corporate partnerships. Plug and Play is co-investor and partner in leading venture companies and initiates more than 365 events a year all over the globe to provide a meeting place for startups and investors.
About Deutsche Bahn
Deutsche Bahn is a leading mobility and logistics company with outstanding competences in operation and development of traffic networks.
We permanently promote mobility and logistics locally, nationally and internationally, as integrated group with railservice as our core business.
Our core competences are:
Efficient and reliable operation of traffic networks
End-to-End offers of mobility and logistics services
Long lasting cooperative partnership with public authorities
Intelligent connection of traffic networks
The target is to reach our vision of being the world leading mobility and the logistics company with our core competences and service offers in public transports (mobility for people – national and international), infrastructure (efficient and sustainable rail infrastructure in Germany) and transport and logistics (intelligent logistics services for land, sea and air). Sustainability, economic efficiency, customer orientation and progressiveness are the core elements of our strategy. Deutsche Bahn offers answers to globalization trends, climate change, scarcity of resources and deregulation today.