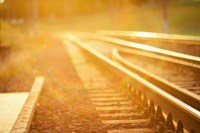 Deutsche Bahn is taking Germany's government delegation and other guests by special train to the 23rd UN Climate Change Conference (COP23) in Bonn.
"Germany's government delegation has a tradition of taking environmentally friendly transport to conferences in Europe," said Chairman of the Management Board and CEO of DB Dr. Richard Lutz today as the ICE "Train to Bonn" departed from Berlin Central. "Today we are sending an important message by having our 250 guests travel CO₂-free. We have continued to raise our own climate protection targets and step up our efforts since Copenhagen in 2009, in Paris two years ago and now in Bonn in 2017," he added.
The specially branded train, which was sent off on its journey with the Federal Ministry for the Environment, Nature Conservation, Building and Nuclear Safety (BMUB) on board, will be stopping at the new UN Campus station in Bonn. Various discussions about climate protection were scheduled to begin on the train, with guests including Environment Minister Dr. Hendricks and state secretaries Flasbarth and Schwarzelühr-Sutter taking part.
"Our objective in Bonn is to move global climate protection forward and work on implementing the Paris Climate Accord," said Environment Minister Dr. Barbara Hendricks. "But we also want to set green standards when it comes to conference organization. Traveling to the conference on the climate-neutral special train is the perfect way to kick off the event," she continued.
DB recently earned the top climate score of A for its environmental performance in the new 2017 ranking published by the international rating organization CDP. DB is one of only two companies in the rail sector in the world to make it onto CDP's A List. CDP evaluates companies' climate protection activities and the transparency of their reporting and is considered the world's best known list of climate protection ratings.
During the journey to Bonn, DB CEO Dr. Lutz and Board Member for Passenger Transport Berthold Huber were scheduled to speak about the new ambitious climate targets DB set ahead of COP23. DB aims to cut specific greenhouse gas emissions by more than 50% by 2030, which amounts to an absolute reduction of more than two million metric tons of CO2 for train transport in Germany. The Group intends to be entirely CO2-free by 2050.
DB Schenker has also set its own specific goals. It wants to be the first major international logistics company to achieve CO2-free growth in the next ten years. It intends to cut specific greenhouse gas emissions by 40% compared to 2006 levels.
The UN COP23 is being held from November 6 to 17. Over 20,000 participants are expected. The regional transport company Nahverkehr Rheinland (NVR) and DB Station&Service completed the new UN Campus station ahead of schedule to accommodate as many train travelers as possible.
The ICE Train to Bonn is also part of DB's new "This is green" environmental communication campaign, which was just launched. As part of the campaign, 112 projects – including DB's mobile phone ticket, CO₂-free freight transport and DB's own hydroelectric power plants for generating green power – are being published and will be presented at stations and on trains. The campaign is a first, giving DB a compact and diverse way to showcase its green projects.
About DB Mobility Logistics
Deutsche Bahn is a leading mobility and logistics company with outstanding competences in operation and development of traffic networks.
We permanently promote mobility and logistics locally, nationally and internationally, as integrated group with railservice as our core business.
Our core competences are:
Efficient and reliable operation of traffic networks
End-to-End offers of mobility and logistics services
Long lasting cooperative partnership with public authorities
Intelligent connection of traffic networks
The target is to reach our vision of being the world leading mobility and the logistics company with our core competences and service offers in public transports (mobility for people – national and international), infrastructure (efficient and sustainable rail infrastructure in Germany) and transport and logistics (intelligent logistics services for land, sea and air). Sustainability, economic efficiency, customer orientation and progressiveness are the core elements of our strategy. Deutsche Bahn offers answers to globalization trends, climate change, scarcity of resources and deregulation today.