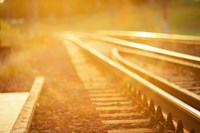 Railway transport is growing rapidly on the Arabian Peninsula. The members of the Gulf Cooperation Council (GCC) are investing heavily in railway infrastructure and are planning services between Oman, Saudi Arabia, the United Arab Emirates, Qatar, Bahrain and Kuwait.
"We have concrete plans to expand our rail network from 3,000 to 22,000 kilometers. This is one of the biggest investments in rail infrastructure. Saudi Arabia is looking to intensify its economic relationship with Germany, with whom a reliable partnership has been existing since 70 years. We value the technical expertise and high level of quality of Deutsche Bahn and view it as important to continue our collaborative partnership," remarked His Excellency Dr. Alawwad, Ambassador-designate from the Kingdom of Saudi Arabia during a meeting with DB CEO Dr. Rüdiger Grube in Berlin. "Saudi Arabia has consistently put its focus on rail and we are delighted to be the preferred partner in implementing this project," said Grube.
The largest projects in the region are currently underway in Saudi Arabia, where DB International, a subsidiary of Deutsche Bahn, has been a key partner for the Saudi Arabian railways for many years. The first high-speed connection on the Arabian Peninsula is currently under construction in Saudi Arabia. "We were commissioned to carry out design review for the track superstructure, electromechanical engineering, construction supervision, monitoring of vehicle production and project management in September 2013," explained Niko Warbanoff, Chairman of the Board of Managing Directors of DB International.
The double-track electrified high-speed line is 450 kilometers long and offers fast, comfortable and reliable service between Jeddah and the holy sites of Mecca and Medina. The maximum speed on the route will be 320 kilometers per hour.
About DB Mobility Logistics
Deutsche Bahn is a leading mobility and logistics company with outstanding competences in operation and development of traffic networks.
We permanently promote mobility and logistics locally, nationally and internationally, as integrated group with railservice as our core business.
Our core competences are:
Efficient and reliable operation of traffic networks
End-to-End offers of mobility and logistics services
Long lasting cooperative partnership with public authorities
Intelligent connection of traffic networks
The target is to reach our vision of being the world leading mobility and the logistics company with our core competences and service offers in public transports (mobility for people – national and international), infrastructure (efficient and sustainable rail infrastructure in Germany) and transport and logistics (intelligent logistics services for land, sea and air). Sustainability, economic efficiency, customer orientation and progressiveness are the core elements of our strategy. Deutsche Bahn offers answers to globalization trends, climate change, scarcity of resources and deregulation today.