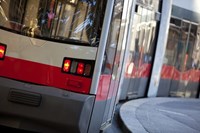 Find vehicles DB no longer requires on the online platform
Presentation at Innotrans in the CityCube Hall B/Booth 406
Deutsche Bahn (DB) is using an online platform www.db-usedtrain.com to offer used passenger rail vehicles. The platform enables transport companies, local transport authorities and dealers to find the used vehicles they need quickly and easily or to rent trains on a temporary basis.
"Deutsche Bahn is continually modernising its fleet. DB Regio alone has invested approximately half a billion euros per annum in new trains over recent years. This has freed up older rolling stock, and we now want to offer these vehicles for purchase, lease or rental," says Oliver Terhaag, the Management Board member responsible for operations at DB Regio AG. "Naturally, we do not eat into our reserves and we only sell vehicles that we no longer need for operations or stand-by."
DB Regio is responsible for putting the vehicles on the market and sells them using a bidding process. With a comprehensive fleet modernisation also underway at DB Long Distance, trains designed for longer routes are also on offer. In addition to sales, DB provides rental and leasing options. Possible uses include extra or special train services, new operations and transitional services.
Vehicles for regional and long-distance transport
For regional and local transport, the main vehicles on offer include classic single-decker passenger cars ("n-coaches") and a variety of diesel multiple units. Though these vehicle types no longer meet today's levels of comfort, they are still regarded as particularly reliable and economical stock. The long-distance vehicles on offer are older passenger cars previously used on InterRegio and Intercity services, as well as sleeper and restaurant cars.
230 customers already registered in Germany and other countries
Some 230 companies from Germany and beyond have already registered on the website. Rail companies both in Germany and abroad are taking advantage of the opportunity to bolster their fleet with used DB vehicles. Many of DB's former long-distance coaches are now in service in Eastern Europe, while some have found their way to other continents. Companies are particularly interested in purchasing DB vehicles because of the technical documentation provided and the advising offered by DB rolling stock experts.
Rented rolling stock covers short-term demand
The online portal www.db-usedtrain.com is also the place to go to rent DB vehicles. Where availability permits, DB offers rental of rolling stock from its operational reserve. DB Regio vehicles based in fixed locations can generally be obtained at short notice.
In order to cover longer-term requirements, DB Regio is currently developing a leasing model. In leasing, unlike in vehicle rental, the lessee is responsible for maintenance and keeping the rolling stock in full working order.
About Deutsche Bahn
Deutsche Bahn is a leading mobility and logistics company with outstanding competences in operation and development of traffic networks.
We permanently promote mobility and logistics locally, nationally and internationally, as integrated group with railservice as our core business.
Our core competences are:
Efficient and reliable operation of traffic networks
End-to-End offers of mobility and logistics services
Long lasting cooperative partnership with public authorities
Intelligent connection of traffic networks
The target is to reach our vision of being the world leading mobility and the logistics company with our core competences and service offers in public transports (mobility for people – national and international), infrastructure (efficient and sustainable rail infrastructure in Germany) and transport and logistics (intelligent logistics services for land, sea and air). Sustainability, economic efficiency, customer orientation and progressiveness are the core elements of our strategy. Deutsche Bahn offers answers to globalization trends, climate change, scarcity of resources and deregulation today.