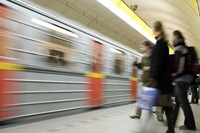 DB is pushing ahead with digitisation in three areas: at the interface with customers, in its own processes and with new data-driven business models
"We view digital technologies, new customer needs and market changes as drivers of progress. We are aggressively working on three areas for action in our DB 4.0 campaign. First, we are working at the interface with customers to make travel more convenient, comfortable, flexible and personal. Second, our campaign is focusing on digitalizing processes and workflows, and third, we're promoting the smart use of new data-driven business models," says DB's CEO and Chairman of the Management Board Dr. Rüdiger Grube.
Travel made more convenient, comfortable and flexible: digitisation at the interface with customers
The growing importance of the customer interface has clearly shown that digitisation isn't just about technological progress. First and foremost, it's progress that benefits customers. After all, the customer interface is where we can make travel more convenient, comfortable, flexible and personal. What customers want is seamless, door-to-door travel chains.
One fundamental tool for achieving this is DB Navigator, which is already Europe's most popular travel app, providing four million pieces of travel information a day. The Qixxit app, which also includes non-DB products and services, now covers all modes of transport. It can map out seamless travel chains, meeting the individual needs of different customers when it comes to choosing modes of transport. The app also links to DB's door-to-door services, such as its Flinkster carsharing service and its Call a bike bicycle rental service.
DB already sells some 3.5 million online and mobile phone tickets a month, and that figure is on the rise. Over half of long-distance tickets are now bought online. For a growing number of customers, smartphones are a source of timetable information, a ticket window and a travel planner in one.
All of these services lay the foundation for the next step: DB's vision of a multimodal full-service mobility platform 4.0, which will make searching for, finding, using and paying for transportation fast and easy in just a few clicks.
Wireless internet access will be expanded to second class on ICEs by the end of 2016. The first pilot projects are being conducted simultaneously in regional and local rail passenger transport. For the WiFi rollout to succeed, DB needs close cooperation with local authorities that contract for transportation services, Grube says. To enable seamless internet access during train travel, from start to finish, DB aims to install "WLAN@DB", a standardized network on trains, at stations and in DB Lounges. The latest on-board improvement is the ICE Portal, which offers digital newspapers, games and audiobooks and will include movies, TV series and documentaries by the end of the year.
Autonomous driving for cars, buses and trucks is another issue DB is working on. It is developing its own pilot projects and new business models in the form of digital customer platforms. "Self-driving cars will create a brand new market. Traditional private motorized transport and public transport will merge to create individualized public transport," Grube says. "Mobility services will be produced on demand, and passengers and mobility providers will interact digitally. The transportation system will become increasingly smart as providers adjust their services based on user behavior."
Digitisation's role in improving processes – for better quality
DB is digitalizing a growing number of its systems to make rail operations more reliable and customer-friendly. All 2,100 elevators and 1,000 escalators at some 1,000 stations will be equipped with sensor and telematics technology for remote monitoring. In the future, systems will be able to report malfunctions themselves, reducing the number of repairs and speeding up repair time. Customers will benefit from much greater availability of escalators and elevators.
Remote diagnostics will be used to determine the condition of 30,000 switches in the rail network, which will cut downtime in half and increase punctuality. Digitalization in the context of DB's "Zukunft Bahn" quality program also includes predictive maintenance.
The first 250 freight locomotives have been equipped with technology that enables them to know what's best for themselves when it comes to maintenance. By the end of 2020, a total of 2,000 locomotives will be able to detect when maintenance is necessary. Sensor and telematics technology makes it possible for operations control centers to connect directly to the locomotives. If malfunctions are detected, they are repaired immediately as a preventive step, which increases operating quality for customers.
The next major development in rail will be fully automatic driving on rail. Pilot projects are already under way, with passenger transport testing being conducted by the Erzgebirgsbahn. In freight transport, automatic driving is being tested using a main-line locomotive in Wildenrath, and the necessary camera and control systems are being tested during shunting operations.
Fully automatic driving on rail will be supported by the digital timetable of the future, which will be generated automatically instead of manually, as is done now. The digital timetable will make it possible to access available train paths directly online and to increase rail capacity considerably.
"Fully automatic driving will greatly improve rail's performance, make it more reliable and make it more efficient. Rail will become a stronger competitor as a result," says Grube. "It's not a process that will be implemented overnight, but we're taking concrete steps to prepare for the time when we can implement fully automatic driving. We want to be a pioneer – of course working closely with our partners in the industry and other rail companies in Germany and the rest of Europe – and in close cooperation with policy makers and our employees."
Smart use of data for digital innovations and new data-driven business models
At DB, big data also means open data. The open data platform already makes infrastructure and timetable data available to programmers and developers. DB is taking the next step in continuing to secure the enormous amount of data and promote even more innovation by establishing a dedicated company, DB Digital Ventures GmbH. The unit, which falls under the direct responsibility of the Chief Digital Officer, will develop its own innovative projects and network with the start-up world to a greater extent than DB does now. These efforts will be closely intertwined with units that have already been successfully established at the Group, including the mindbox accelerator, d.lab for passenger transport and skydeck at DB Systel.
Deutsche Bahn and the Federal Ministry of Transport and Digital Infrastructure (BMVI) have agreed to allow developers to use data from both entities. DB has networked its open data platform with the BMVI's mCloud, the first company to do so. It has uploaded over 12 Gigabytes of data to the cloud in the last 18 months, including car sequence plan data, reporting data on vehicles and stations, and capacity utilization data for Call a Bike and Flinkster. Uploads like these give developers and entrepreneurs open access to a vast treasure trove of data – an incentive for start-ups in particular to tackle the further development of rail transport and create new services that will make the rail mode even more attractive to customers in the future.
About Deutsche Bahn Mobility Logistics
Deutsche Bahn is a leading mobility and logistics company with outstanding competences in operation and development of traffic networks.
We permanently promote mobility and logistics locally, nationally and internationally, as integrated group with railservice as our core business.
Our core competences are:
Efficient and reliable operation of traffic networks
End-to-End offers of mobility and logistics services
Long lasting cooperative partnership with public authorities
Intelligent connection of traffic networks
The target is to reach our vision of being the world leading mobility and the logistics company with our core competences and service offers in public transports (mobility for people – national and international), infrastructure (efficient and sustainable rail infrastructure in Germany) and transport and logistics (intelligent logistics services for land, sea and air). Sustainability, economic efficiency, customer orientation and progressiveness are the core elements of our strategy. Deutsche Bahn offers answers to globalization trends, climate change, scarcity of resources and deregulation today.