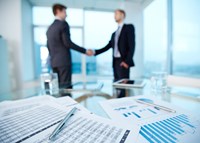 Memorandum of understanding signed regarding joint activities in international rail freight
Georgia is part of the new Silk Road from China to Europe via Iran
At a meeting in Tbilisi, Deutsche Bahn and Georgia's national rail operator have agreed to expand the scope of their strategic cooperation activities. A memorandum of understanding (MoU) was signed during the visit by Germany's foreign minister Frank-Walter Steinmeier to the Caucasus state, and it covers collaboration on international freight transport and consultancy services for a wide range of transport-related projects over the coming five years. The partnership was agreed by Mamuka Bakhtadze, Chairman of Georgian Railways, and Niko Warbanoff, Head of International Business Development at Deutsche Bahn AG and CEO of DB Engineering & Consulting GmbH.
The two companies plan to work together to create a new rail connection from China to Europe via central Asia and Georgia, thereby opening up a new route as an additional option for customers seeking an overland connection. Ronald Pofalla, Member of the Management Board for Economic, Legal, and Regulatory Affairs at DB has this to say: "We are proud that DB has the chance to contribute to the renaissance and modernization of the ancient communication routes between the continents. With a rail history reaching back to 1871, Georgia has a key role to play in this undertaking."
In March 2016 DB signed already an agreement with Chinese national operator, China Railways, on expanding rail connections between Europe and China. Following the deal, Deutsche Bahn wants to make the most of the opportunity afforded by China's Silk Road initiative, "One Belt – One Road". This project envisions a whole array of infrastructural undertakings covering a total of 65 countries. "We look forward to contributing to the Silk Road initiative and thus helping to promote international rail transport," says Niko Warbanoff. "Our work in this area will also offer us access to a large and growing market in Asia."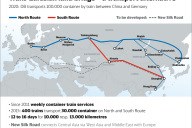 In another move, DB and Georgian Railways are cooperating on planning the development of rail freight links between Europe and Iran, with Georgia as a transit country. Extending the connection to India is an option for the future. In addition, the experts at DB's subsidiary DB E&C will provide Georgian Railways with support for organizing and producing rail services, reforming its rail system's structure root-and-branch, and modernizing and maintaining rail technology including the company's fleet of vehicles. Georgian Railways has also contracted with DB E&C in the past: DB E&C carried out a project to develop combined transport in the Caucasus region, offered consulting services on the preparation of tender documents for trains and served as the construction supervisor for the Tbilisi Bypass project.
About DB Mobility Logistics
Deutsche Bahn is a leading mobility and logistics company with outstanding competences in operation and development of traffic networks.
We permanently promote mobility and logistics locally, nationally and internationally, as integrated group with railservice as our core business.
Our core competences are:
Efficient and reliable operation of traffic networks
End-to-End offers of mobility and logistics services
Long lasting cooperative partnership with public authorities
Intelligent connection of traffic networks
The target is to reach our vision of being the world leading mobility and the logistics company with our core competences and service offers in public transports (mobility for people – national and international), infrastructure (efficient and sustainable rail infrastructure in Germany) and transport and logistics (intelligent logistics services for land, sea and air). Sustainability, economic efficiency, customer orientation and progressiveness are the core elements of our strategy. Deutsche Bahn offers answers to globalization trends, climate change, scarcity of resources and deregulation today.