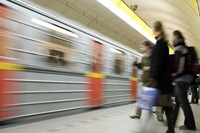 Nigel Smith has been appointed by the Board of DB Schenker Rail AG to take charge of DB Schenker Rail Netherlands N.V. as from 1 October.
He is to succeed Aart Klompe, who shall remain in the firm's employ, primarily maintaining and expanding its major accounts in the Port of Rotterdam. Nigel Smith (54) was previously COO at Etihad Rail DB in Abu Dhabi, a joint venture launched by DB Schenker Rail and Etihad Rail in the United Arab Emirates. The Englishman had earlier been a Member of the Board of DB Schenker Rail UK.
'Nigel Smith is an experienced manager who is highly familiar with the particular demands faced by the management of a contemporary rail freight carrier' says Otto Niederhofer, chairman of the supervisory board of DB Schenker Rail Nederland.
With a workforce of some 650, DB Schenker Rail Netherlands N.V. is the Netherlands' largest rail transport operator. It is the only firm in the country currently offering wagonload transport. Mining and chemical products account for the vast majority of its transport operations. It provides excellent connections between the seaports of Antwerp, Rotterdam and Amsterdam and to and from the major economic regions of Germany.
About DB Schenker Rail

DB Schenker Rail is the leading freight train in Europe represented in the Netherlands, Denmark, Belgium, Italy, Switzerland, UK, France, Spain and Poland. DB Schenker Rail offers transport services in the segments of block trains, single car and combined transport system. Particular expertise has DB Schenker Rail in the sectors of coal and steel, chemicals, petroleum, fertilizers, consumer goods, construction materials and disposal.