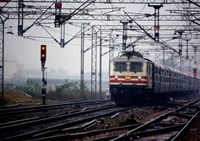 The major railway undertakings have closed ranks across Europe: the CEOs of the German, Swiss, Austrian and French railways have agreed to cooperate closely in order to minimise the impact of the line closure on the Rheintal route for rail freight traffic. Following Tuesday's announcement that operations on the line would not begin again until 7 October, Deutsche Bahn (DB), Schweizerische Bundesbahnen (SBB), Österreichische Bundesbahnen (ÖBB) and Société Nationale des Chemins de Fer (SNCF) have agreed on a comprehensive action package.
There is traditionally a sharp increase in freight traffic on the north-south corridor at the end of the holiday season. Without coordinated action between the various players, it would not be possible to fully satisfy demand over the next few weeks. By launching this initiative, the four railway CEOs are aiming to keep the effects of the Rheintalbahn closure on rail freight and passenger customers to a minimum. The four railway CEOs – Dr Richard Lutz (DB), Andreas Meyer (SBB), Andreas Matthä (ÖBB) and Guillaume Pepy (SNCF) – have also agreed to consult each other regularly in order to coordinate the necessary measures. All four were agreed that the forthcoming challenges can only be resolved by taking concerted action.
Dr Richard Lutz, Chairman of the Management Board and CEO of DB, stated: "Rail freight traffic is the backbone of the European economy. Together with our partner companies, we are all pulling together to safeguard the flow of goods. I would like to say a sincere thank you for the fast and uncomplicated help provided by the other railways and their CEOs. This is not only a sign that integrated rail systems work effectively, but also proof of the close and successful partnership between the major European railways. This in-depth cooperation across our national borders shows that we are doing everything in our power to support our rail freight customers."
In addition to the measures that have already been implemented, the four railways are jointly providing a pool of additional train drivers and locomotives to operate on the corridors that run through France and Austria. This will enable efficient capacity utilisation on the different diversion corridors, which will be agreed in consultation between the partner railways. In order to make journeys from Germany to Switzerland even easier, the railways are currently examining the option of setting up a shuttle service for freight trains between Kornwestheim and Zurich. Planned construction work is also to be adjusted at short notice to create infrastructure capacities for rail freight traffic on the diversion routes as quickly as possible.
About DB Mobility Logistics
Deutsche Bahn is a leading mobility and logistics company with outstanding competences in operation and development of traffic networks.
We permanently promote mobility and logistics locally, nationally and internationally, as integrated group with railservice as our core business.
Our core competences are:
Efficient and reliable operation of traffic networks
End-to-End offers of mobility and logistics services
Long lasting cooperative partnership with public authorities
Intelligent connection of traffic networks
The target is to reach our vision of being the world leading mobility and the logistics company with our core competences and service offers in public transports (mobility for people – national and international), infrastructure (efficient and sustainable rail infrastructure in Germany) and transport and logistics (intelligent logistics services for land, sea and air). Sustainability, economic efficiency, customer orientation and progressiveness are the core elements of our strategy. Deutsche Bahn offers answers to globalization trends, climate change, scarcity of resources and deregulation today.