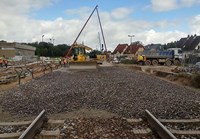 The full length of the Rhine Valley Railway line ("Rheintalbahn") will again be in operation as of October 2. Deutsche Bahn (DB) and the construction companies further optimized staffing and machinery logistics, which has made it possible to complete work earlier than planned.
"In such a difficult situation, every day counts for our customers in the freight and passenger transportation sectors. It is therefore reassuring that we will complete the work earlier than expected," said Ronald Pofalla, Member of the Management Board of Deutsche Bahn for Infrastructure.
On August 12, driving work in a tunnel at Rastatt in southwest Germany resulted in water and earth collapsing into the uncompleted tunnel. The Rhine Valley Railway runs immediately above the tunnel, and the accident caused the line's permanent way and tracks to sink considerably. Since then, passenger and freight services have been suspended on the section of this vital transport artery between Rastatt and Baden-Baden. Initial plans scheduled October 7 as the date for reopening.
Organizing replacement services for freight transportation will remain one of our major tasks until the line reopens. The early reopening of the Stuttgart-Hattingen line ("Gäubahn") on September 7 after construction work had been expedited relieves pressure somewhat. In addition, approximately 70 additional train drivers are working in freight transport, primarily on routes to Italy via France and southern Germany. Some drivers have also joined us from neighboring countries' rail companies. The challenge is that not only do these drivers need to have the requisite knowledge about our vehicles and routes; they must also have the relevant language skills.
Looking at the larger picture, it is clear that the combined support from major European rail companies is having the desired effect. "My staff and I are in regular contact with rail operators in Switzerland, Austria and France. Our cooperation is working, and we are tremendously grateful for this," said Dr. Lutz.
About DB Mobility Logistics
Deutsche Bahn is a leading mobility and logistics company with outstanding competences in operation and development of traffic networks.
We permanently promote mobility and logistics locally, nationally and internationally, as integrated group with railservice as our core business.
Our core competences are:
Efficient and reliable operation of traffic networks
End-to-End offers of mobility and logistics services
Long lasting cooperative partnership with public authorities
Intelligent connection of traffic networks
The target is to reach our vision of being the world leading mobility and the logistics company with our core competences and service offers in public transports (mobility for people – national and international), infrastructure (efficient and sustainable rail infrastructure in Germany) and transport and logistics (intelligent logistics services for land, sea and air). Sustainability, economic efficiency, customer orientation and progressiveness are the core elements of our strategy. Deutsche Bahn offers answers to globalization trends, climate change, scarcity of resources and deregulation today.